Andy Murray visits Lambeth's Black Prince Trust fresh from Wimbledon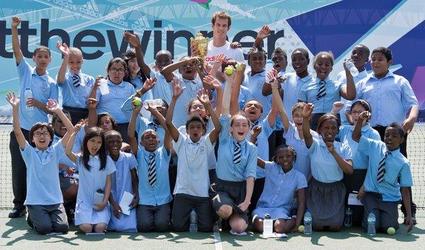 Rallying with children at the Black Prince Trust Community Hub in Lambeth is all in a day's work for newly-crowned Wimbledon Champion, Andy Murray, who visited the local leisure centre in Lambeth on Monday, 8 July - the day after his big win.
The 'hub' is owned by charity, The Black Prince Trust, which has invested more than £2 million in extending and improving sports and community facilities and is working in partnership with GLL, managers of the new facilities, which are used by 18,000 local children and adults every month.
Britain's first men's singles Wimbledon Champion for 77 years, met children from the local Lambeth community and rallied with them on the trust's two new tennis courts.
Patricia Thomas, Chair of Black Prince trust said "What a champion. Andy Murray after winning Wimbledon and after one hour's sleep nevertheless spent over two hours at the Black Prince Trust in Kennington letting children and adults have a chance to hit a ball at him. He provides inspiration for all that you can achieve what you truly believe in."
Says Jamie Coleshill, GLL Partnership Manager, "We're delighted to welcome Andy Murray who is an inspiration to our young players.  We hope his visit will motivate more local children to start playing tennis as well as encourage the community to try out our new facilities which also include two five-a-side synthetic football pitches and a 60 metre running track as well as a gym and multi-sports facilities."