Another Legacy Landmark as Copper Box Arena Creates over 50 New Jobs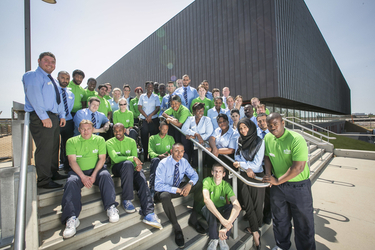 Charitable social enterprise GLL, which operates the Copper Box Arena on the Queen Elizabeth Olympic Park has already created 52 new jobs as part of the London 2012 legacy.
The new roles cover a range of leisure and fitness positions including Arena Assistants, Customer Service Advisors, Fitness Instructors, Crèche Assistants and Sports Coaches.  All the jobs are all based at the Copper Box Arena, which opens to the public for the first time since last year's Games on 27th July 2013.
More than 90% of those recruited live in one of the six host Olympic boroughs, providing real evidence that employment opportunities on the Park are benefiting the local community.  12 apprenticeship positions have also been created, designed to help individuals enter employment and begin building a career within the leisure industry.
Benn Penalver, 23 years, an Arena Assistant at the Copper Box said: "I feel fortunate to have this amazing opportunity to build a rewarding career in the health and fitness industry and to have the chance to increase my knowledge, improve my skills and achieve qualifications that will help me not only do my job better but progress in the future.
"I've made some good friends here and we all make a great team, pulling together like one big family to get the job done."
Rona Ramsey, 27 years, who is one of the Copper Box Arena apprentices added: "It's great to be playing a part in the Olympic legacy, helping other people in my area to take advantage of the fantastic facilities the arena offers.
"For people from the local area who perhaps don't have a lot of money or who have never been encouraged to try out fitness activities before, it can be quite daunting to go along to a leisure centre and take part in a fitness session or class, but I want to show them that it's a resource for everyone and they are more than welcome to give it a go."
Commenting on the new jobs GLL deputy managing director Peter Bundey said: "This is one of the first major recruitment drives to be held for the Park and is a concrete example of the Olympic legacy in action. 
"Our new staff will play a key role in building a long lasting legacy in East London and will have a fantastic opportunity to work at a unique venue as part of a trail blazing team."
Dennis Hone, Chief Executive of the London Legacy Corporation, said: "This is excellent news from the first company appointed to manage the London 2012 venues. GLL are helping us create a lasting legacy of employment and training in east London. Thousands of jobs are being created on Queen Elizabeth Olympic Park and we've set high targets for employers in terms of recruitment from surrounding boroughs. GLL have met and exceeded these targets, setting the benchmark for other employers to follow."
The Copper Box Arena will have a seating capacity of 7,500 and will be the largest purpose-built sporting venue in London.  It will be used for a wide range of indoor sports events as well as community events, concerts and family entertainment.  There will also be a state-of-the-art gym, group exercise studio and crèche, which will be available to all the local community.