Barry McGuigan Boxing Academy Celebrates setting down roots in the Copper Box Arena to continue their Legacy Campaign with LLDC and GLL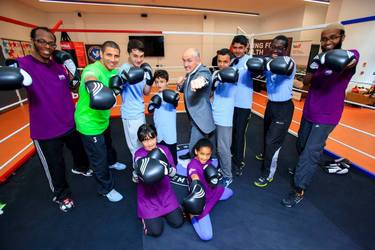 The recent BMBA community sports programmes funded by the London Legacy Development Corporation have targeted people living in 4 of the Growth Boroughs; Waltham Forest, Hackney, Tower Hamlets & Newham. They have engaged a total of 2,345 participants over 31 sport and physical activity sessions as part of the Boxing for Health Initiative Events. The programmes were designed to inspire and connect with people living closest to Queen Elizabeth Olympic Park to get "fighting fit" in 2013 and beyond and to make exercise and healthier eating choices a regular part of their lives.
The Barry McGuigan Boxing Academy this week announced it will have its programme delivery hub and head offices situated in the Copper Box Arena at the Queen Elizabeth Olympic Park. The lease was signed with GLL, the charitable social enterprise that operates the Copper Box Arena, during the first week of the new venue opening. The community health promotion and sports development work the BMBA has been delivering post the London 2012 games with LLDC in the Growth Boroughs surrounding the Queen Elizabeth Olympic Park will continue now that the BMBA has a permanent home in QEOP. The partners will continue to engage East London's residents through a host of Health and Fitness initiatives and Educational programmes.
BMBA Founder and Former World Featherweight Boxing Champion Barry McGuigan said: "We are incredibly excited to be a part of the on-going legacy of the London games and to be situated within this prolific venue is a real privilege. We are pleased to be able to demonstrate our commitment to continue to build and develop on the momentum we have created within the communities surrounding the QEOP. We intend to be here for many years to come"
Tony Wallace, Head of Olympic Venues at GLL added: "We are delighted that the BMBA has chosen the Copper Box Arena as it base; its presence on the Queen Elizabeth Olympic Park is another great example to show that the 2012 legacy is thriving. 
"Engaging local communities around sport and healthier living are core objectives for GLL and closely reflect the work that BMBA carries out with community groups around the country."
Dennis Hone, Chief Executive at London Legacy Development Corporation added: "Barry is an inspirational figure. The community sessions staged have been a great success with local communities. I'm delighted that Barry McGuigan Boxing Academy will continue working with us from the Copper Box Arena, helping us deliver a lasting healthy living and sporting legacy from the Games."
Alongside the Boxing for Health Days, the Happy Hearts Primary School Health Programme has been run by Barry McGuigan's Boxing Academy, funded by the London Legacy Development Corporation. The programme has been delivered as 6-week fitness education courses to hundreds of 8-11 year olds across six primary schools in Waltham Forest, Tower Hamlets, Hackney & Newham.
The activities are designed to teach primary-age children about nutrition and exercise by taking part in fun physical activity games designed to help children to learn about health and develop practical skills for a healthier lifestyle.
What's Happening?
The event on August 1st will deliver activities to more than 540 participants from Waltham Forest and the other 3 Growth Boroughs The adults and children who have attended these programmes and their families have been invited to the Copper Box Arena on August 1st to continue their learning and journey to a healthier lifestyle as part of this celebration event.
On the day participants on the day will have the chance to:
Receive tips on their boxing technique from Barry McGuigan Learn the basic boxing moves, skills and techniques
Join in a mass participation boxing warm up – led by Shane McGuigan
Get fit using pads with professional boxing coaches Train in an Olympic boxing ring
Participants will be able to take part in:
Eat-right / Eat-real demonstrations and nutritional talks Happy Hearts
"Move and Learn" HEALTH circuit sessions
Skipping masterclasses Agility & footwork drills
Teamwork games