'Better' news for disabled people as GLL launch new discount membership across 100 leisure centres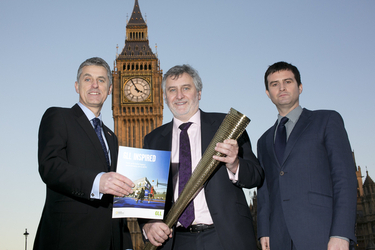 As part of its Olympic and Paralympic legacy strategy, leading charitable social enterprise GLL has launched a discounted disability membership to access more than 110 sports and leisure centres across London and other areas across England.
Following a successful pilot scheme across 30 'Better' leisure centres in five Olympic and Paralympic boroughs, the legacy operator launched its 'Better Health and Fitness Inclusive' membership card at The House of Commons on Wednesday 9th January 2012 in the presence of Giles Long MBE, Paralympic Gold Medallist and Broadcaster.
Peter Bundey, GLL Deputy Managing Director said: "As the largest provider of public sport and leisure facilities in the UK, one of GLL's key corporate aims is to maximise opportunities to increase and sustain sports participation as part of the legacy of the Olympic and Paralympic games. The Better Inclusive card is an important part of our basket of initiatives and programmes to provide practical ways of promoting participation and performance within disability sport".
From 9th January 2012, holders of a 'Better Inclusive' card will enjoy significantly discounted memberships with an extensive range of benefits . The key elements and benefits of membership include:
access to more than 100 GLL centres – enabling cross borough useage
access to centres at anytime (not restricted to off-peak times)
inclusive access to the gym, swimming, group exercise classes and a fitness induction
carers of disabled customers given free access to centre
no joining fee and no minimum contract
available as a direct debit or annual membership
6 days advance telephone booking
online booking for activities
access to courses and other member only activities
up to 30% off non member prices for any other activities
To be eligible for a Better Inclusive card, customers must be over 16 years old and meet one of the following criteria: severe disablement allowance; mobility allowance; disability living allowance; industrial injuries disablement benefit; disablement benefit; attendance allowance; employment and support allowance. The monthly membership will cost £19.95 per month.
The launch of the Better Health and Fitness Inclusive card comes hot on the heels of the release of 'GLL Inspired' – GLL's legacy strategy to deliver real community growth in sport and physical activity. GLL has also been selected by the London Legacy Development Corporation (LLDC) as operating partner for the Multi-Use Arena and Aquatics Centre Olympic venues.
GLL has a history of involvement in a number of disability projects across London including:
More than 15 GLL-run centres are accredited to the Inclusive Fitness Initiative (IFI) – the largest scheme run by a leisure operator in London. IFI is a platform to promote, drive and engage people with disabilities to participate in sporting activities in fully accessible facilities.
GLL was the first leisure provider to adopt 'Inclusive and Active 2', a sport and physical activity strategy for disabled people living and working in London.
The GLL Sport Foundation is the largest independent talent programme in the UK. It has provided funding and training grants to more than 3800 athletes across 60 different sports at a value of more than £2million. The scheme has supported a wide range ofdisabled athletes across Paralympic, Deaflympic and Special Olympic sports.
GLL support disability performance sport providing pathways from grassroots to elite sport and have been significant partners with the London Disability Swim Squad; East London Lynx Sitting Volleyball Club; GLL London Titans Wheelchair Basketball Club.
GLL employ a dedicated Disability Sport and Aquatics Manager. The Manager works on specific disability sessions across aquatic and sport programmes. '.
GLL engage with local disability groups and key stakeholders, such as: the Royal Borough of Greenwich: Working in partnership with South London Special, Powerchair Football sessions are provided, targeting adult wheelchair users. London Borough of Tower Hamlets: Working in partnership with the GLL London Titans Wheelchair Basketball Club, GLL provides adult and junior development sessions. Launched wheelchair basketball at Brixton Recreation Centre in partnership with the British Wheelchair Basketball Association and Lambeth Council Sports and Recreation team . Launched a new interactive dance studio at Talacre Sports Centre in Camden which includes sensory features specifically designed for young children, young people and adults with disabilities
To find out more, visit www.better.org.uk/memberships/concessionary