Calling community groups, clubs, schools and charities - new £100k fund for local networks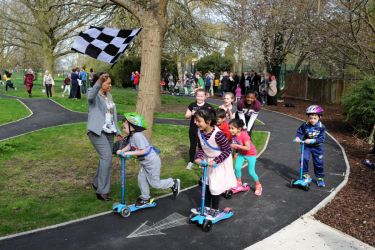 The GLL Community Foundation, in partnership with civic crowdfunding platform, Spacehive, is the first link up of its kind supporting local community development, helping local communities come together to improve their local environments. From building parks and organising tournaments to running small community events, GLL welcomes bids for any project that has a positive impact on the local community.
Previously piloted in 2016, GLL backed 6 projects, which have raised £64,300 worth in cash and in kind support form 547 individual backers. GLL now operates in 61 areas throughout the UK - giving national scope to support communities all over the country with the launch of the 2017 programme.
Previous projects that GLL has supported have had positive impacts and with sustainable outcomes, which will continue throughout 2017. GLL's staff can help from the development stage; providing fundraising ideas, contacts with the local council and potential monetary sources, and planning how to ensure the project is sustainable and used after the fundraising has ended. 2017 is set to be an eventful year, with already six projects in motion.
Chris Symons, Director of Business Development at GLL said, "We are very excited to be re-launching the GLL Community Foundation. We are always looking to support our local communities and Spacehive gives us the platform to be able to make positive long term impacts. As a social enterprise we stand for being charitable, inclusive and for bringing social benefits which we believe the Community Foundation will help us to achieve."
GLL would like to help non profit local community groups, including clubs, schools, charities and social enterprises to crowdfund projects that create opportunities for more people to come together and be more active, learn, play and take part in sport and leisure activities, by offering use of their spaces, the time of their staff, and cash funding. Potential project creators are encouraged to contact GLL (communityfoundation@gll.org) for more information.