Cally Pool shapes up for the New Year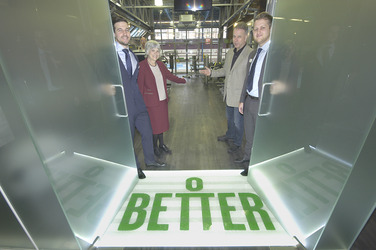 Cally Pool shapes up for the New Year
New Year's resolutions will be easier to keep at the Cally Pool following a revamp of its gym. The council-run leisure centre now has a larger gym area filled with brand new equipment, offering exercisers modern, easy-to-use machines and free weights.
To celebrate the reopening of the bigger, better and brighter gym area, membership prices at the centre have been slashed and now start at £24.95 a month. New users will benefit from tailored exercise plans to help with personal targets, and demonstrations of the new equipment by experienced staff.
Cllr Janet Burgess MBE, Islington Council's executive member for health and wellbeing said, "It's very exciting that we have a leisure centre with visible improvements being made – not just invisible ones like improvements in air quality – so soon after GLL have taken over managing leisure centres in Islington.
"The gym looks much brighter and inviting with brand new equipment, and with the new membership fees is perfect for New Year's resolutions." Merline Dyer, a local resident and regular gym user said, "I've been coming here since 1997 and think the new gym looks absolutely beautiful. It's much lighter and easier to use and is 100% better."
Mark Sesnan, Managing Director, GLL, said, "Our promise to improve and invest into the sporting facilities in Islington continues, and we are delighted to be furthering this commitment to local people with the well-loved Cally Pool benefitting from a number of improvements, including a new reception and a larger gym provision with fully updated state of the art Technogym gym equipment.
"As a the UK's largest leisure charitable social enterprise, our mission is to get more people, more active, more often, so we will continue to provide first class leisure facilities that everyone in Islington can be proud of – at a price they can afford."
This is the first major investment in leisure centres in Islington under the new leisure contract with GLL, and also included a new Fast Access reception to allow existing members quick entry into the gym.
Islington Council and GLL have major refurbishments planned to the Sobell, Archway and Highbury Pool leisure centres over the next year and a half, as part of the borough's £10m investment into leisure facilities. For more information on gyms and leisure centre memberships in Islington visit: www.better.org.uk/membership.
 ---Ends---
 For further information please contact: Jaime Goumal Senior Media Officer Islington Council G16, Town Hall, Upper Street, London, N1 2UD Tel: 020 7527 2368 Alternative contact: Media team 020 7527 2307 Email: Jaime.goumal@islington.gov.uk