Children in 'Better' swim schools learn to saves lives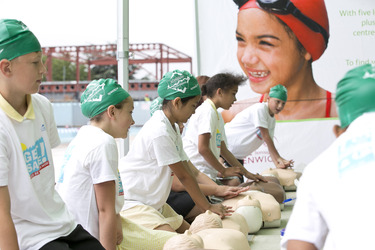 Over 50,000 pupils in primary and secondary schools across England and Wales were provided with crucial water safety lessons this week by GLL, the UK's largest operator of swimming pools, during 'Better Schools Water Safety Week', held 23 - 27 June.
In a bid to inform young children and adults on the dangers of water, GLL engaged their own Better swim school pupils, highlighting swimming as the only sport that can save lives. Pupils were taught a variety of water safety skills and the tips involved when visiting swimming pools, coastal, and inland waters - from how they can spot the dangers themselves to what to do in an emergency.
The teaching programme was aimed to support RLSS Drowning Prevention Week 2014 (held 21-29 June), in a bid to help avoid a tragic repeat of last year where more than 30 people lost their lives to drowning in just seven weeks, many of them young men and boys.
RLSS reports that accidental drowning causes approximately 400 UK deaths every year, the equivalent of one person drowning every 20 hours. Thousands more suffer near drowning experiences, some resulting in life changing injuries. Drowning is still the third highest cause of accidental death in children in the UK.
Mark Sesnan, Managing Director, GLL, said, "Ensuring that everyone is able to swim and a remains safe in and around water is of paramount importance to GLL. We have already been delivering a number of water safety initiatives in our Better school swimming lessons, to increase pupil's knowledge and practice of water safety skills – all while delivering fun and safe activities.
"As the largest operator of pools in the UK, we wanted to promote, support and raise awareness for the RLSS 'National Drowning Prevention Week', as well as the ASA 'Get Safe' Campaign', by highlighting the benefits of learning to swim and underlining the fact that swimming is a unique and inclusive activity - and the only sport that can save lives."