Copper Box Arena Duty Manager Steven Condon wins Apprentice of the year.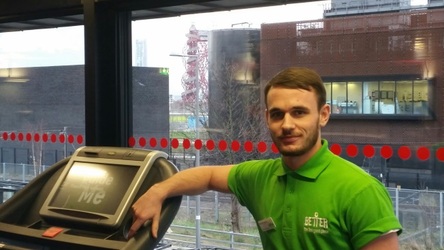 With National Apprenticeship Week beginning on Monday 9 March, the London Legacy Development Corporation has celebrated the success of more than 50 apprentices working at Queen Elizabeth Olympic Park with an awards ceremony at City Hall. Following the hugely successful inaugural Apprenticeship Awards in December 2013, the event was held for the second time on Wednesday 4 March and recognised the hard work and commitment of the Park's apprentices and their employers.
Since the London 2012 Games, more than 110 young people have worked as apprentices at Queen Elizabeth Olympic Park with more than 50 currently working on and in some of London's most high profile projects and iconic buildings. Their jobs range from construction and business administration at the Stadium, Chobham Manor and Here East to poolside and leisure roles at the London Aquatics Centre and Copper Box Arena to maintaining the intricate landscaping in the parklands.
Awards were presented in a number of categories for both apprentices and their employers. The Apprentice of the Year was awarded to Steven Condon from LB Tower Hamlets. Twenty-one year old Steven began working at the Copper Box Arena in June 2013 and has been successfully promoted to Venue Duty Manager which sees him play a key role in managing the day-to-day operation of the venue. Steven has emerged as a natural leader and is described as a dedicated, motivated and professional member of the team by his colleagues.
Steven said: "This award means a great deal to me and it is fantastic to share this experience with my mum and dad.  This experience has made me want to further my career with GLL.  I would also like to thank my colleagues for all the support they have given me during the last 18 months."  
Other successes on the night included Apprentice of the Year runners up Gintare Butkute from LB Newham and Mohammed Mohammed from LB Barking & Dagenham. Twenty-six year old Gintare works as a business administration apprentice at the Stadium where she has become indispensable due to her ability to learn quickly and carry out a whole variety of tasks on site. Twenty-one year old Mohammed Mohammed also works at the Stadium as an electro-technical apprentice. Recognised for his technical skills, Mohammed is a passionate advocate of health and safety standards and is known for constantly looking for ways to improve processes and installation methods.
Twenty-one year old Kojo Foster from LB Newham, a drylining apprentice with Central Essex Interiors at the Stadium, was also honoured on the night with the Most Improved Apprentice Award. Kojo has established a reputation as a respectful and hardworking member of his team as well as taking on the role of mentor to another new apprentice.
David Goldstone, Chief Executive of the London Legacy Development Corporation, said: "We're delighted that so many local young people have been honoured for their hard work and dedication in transforming and operating Queen Elizabeth Olympic Park. We hope that this will be the first step in their long and productive careers and that others will be inspired to both take up apprenticeships and to employ apprentices."   
It wasn't just apprentices being recognised at the event, employers were honoured for their dedication to supporting young people in their chosen career path. Employer of the Year was awarded to international infrastructure group Balfour Beatty for their commitment to opening up opportunities for more than 30 apprentices. Through Balfour's Beatty's mentoring programme, apprentices have been able to progress in careers such as construction operatives, engineers and business administrators. Newham Workplace was also recognised with the Making It Happen Partnership Award for successfully securing jobs and apprenticeships for local people in several of the Park's construction projects.
Since beginning a large programme of construction works at Queen Elizabeth Olympic Park in October 2012, the London Legacy Development Corporation has placed a focus on the creation of apprenticeship opportunities as a way of giving local young people a route into a career. The apprenticeship programme is designed to equip young people with the skills, information, confidence and motivation they need to plan and manage their own careers. 
-Ends-
For more information contact the Press Office at Queen Elizabeth Olympic Park on +44 (0) 20 3734 9010 or email press@QueenElizabethOlympicPark.co.uk
Notes to Editors
London's newest visitor destination, Queen Elizabeth Olympic Park, is a place unlike any other. Visitors to the Park are able to enjoy beautiful parklands and waterways, world-famous sporting venues, arts and events and spectacular views from the ArcelorMittal Orbit. As a new heart for east London, the Park will also provide new homes, jobs and a cultural and education quarter.
The London Legacy Development Corporation promotes and delivers physical, social, economic and environmental regeneration in Queen Elizabeth Olympic Park and the surrounding area, in particular by maximising the legacy of the London 2012 Olympic and Paralympic Games.
For more information visit QueenElizabethOlympicPark.co.uk, follow us on Twitter @noordinarypark and like us on Facebook facebook.com/QueenElizabethOlympicPark
More Information about the Apprentice Awards
Awards:
Supporting New Apprenticeship Delivery – In recognition of employers who have delivered their first apprenticeships during their time working at Queen Elizabeth Olympic Park.
Employer Award for Equalities and Inclusion – In recognition of a commitment to promoting opportunities for all and making careers at Queen Elizabeth Olympic Park more inclusive and accessible.
Award for Excellence in Mentoring and Supporting Apprentices – To recognise an employee who has set the highest standards in providing support and learning opportunities to their apprentices, enabling them to achieve success at work.
Employer of the Year 2014/15 – In recognition of the employer who has demonstrated the highest level of commitment to delivering apprenticeships at Queen Elizabeth Olympic Park.
Making it Happen Partnership Award – For the successful delivery of apprenticeships and for supporting candidates on their journey.
Individual Achievement Award – This award recognises a new entrant or trainee with an exemplary attitude that has overcome additional barriers and demonstrated a promising future.
Most Improved Apprentice Award – In recognition of the apprentice who has made significant progress whilst with their employer and who has demonstrated a firm commitment to achieving their apprenticeship.
Apprentice of the Year – Recognises the apprentice who has made the biggest positive impact with their employer and has demonstrated a commitment to developing their career and inspiring others.
Making It Happen Award – Presented to all apprentices in recognition of their efforts and commitment over the past year.
Winners:
Supporting New Apprenticeship Delivery – PHD Scaffolding and M&H Construction
Employer Award for Equalities and Inclusion – Unity Kitchen Café at Timber Lodge
Award for Excellence in Mentoring and Supporting Apprentices – Barry Wake, Central Essex Interiors
Employer of the Year 2014/15 – Balfour Beatty
Making it Happen Partnership Award – Newham Workplace, LB Newham
Most Improved Apprentice Award – Kojo Foster
Individual Achievement Award – Junior Standley
Apprentice of the Year – Steven Condon
Making It Happen Award – all apprentices