GLL attend Northern Ireland's Social Enterprise Awards 2015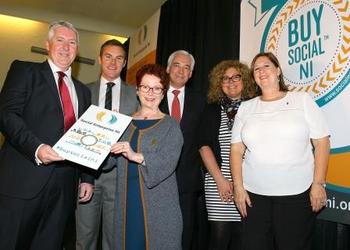 GLL in Belfast were proud to be part of the third annual Social Enterprise Northern Ireland Conference and Awards event. The event focused on sourcing products and services from local social enterprises and recognised the outstanding work that is happening on a daily basis throughout the province. Members attending the conference also welcomed the launch of the buys social NI website www.buysocialni.org
Buying from a social enterprise means that the money you spend can make a real difference – changing people's lives and the communities in which we all live. Social enterprises trade with the general public, as well as the private and public sectors.  The event brought together social enterprises, the private and public sector to look at policy and practices that help to weave social enterprises into the fabric of our local economy helping the rebalance the economy and contribute to the greater good of our civil society.
Gareth Kirk, GLL Regional Director in Northern Ireland, was a member of the judging panel and comments on the high calibre of thriving social enterprises in Northern Ireland, "It was great to see the quality of social enterprises across Northern Ireland but also the varying services delivered and products produced by many unique and inspirational leaders.
 
"The event featured a question and answer round with a panel of experts from both the public sector and social enterprises. This was followed by a series of workshops, before some local enterprises were put under scrutiny in the dragon's den. The den was a showdown between local social enterprises, as they put their best pitch forward with their business idea. I really enjoyed watching the individuals demonstrate their innovation and passion for their organisation and customer base in order to win the £1500 prize money which will go along way towards improving their social enterprise."
Better are keen to share the buy social message across Northern Ireland and recently back the campaign with kids for a quid in our leisure centres. Visit our website www.better.org.uk/belfast for more buys social initiatives in the New Year.