GLL build crucial 'Steps into Work' for people with learning disabilities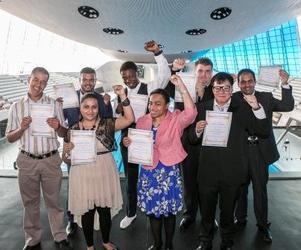 GLL, the UK's largest leisure charitable social enterprise, celebrated its first 'Steps into Work' graduation ceremony this week, which saw eight students with learning disabilities graduate from a successful internship programme, run by National Star College in partnership with Remploy.
The ceremony, hosted at the London Aquatics Centre, Queen Elizabeth Olympic Park, marked the end of a number of GLL work placements provided for students from across Greater London, who worked at GLL leisure centres and libraries, run under their 'Better' brand, across the academic year, with students gaining a City and Guilds qualification in Customers Services from National Star College.
National Star College, in partnership with Remploy and Barking and Dagenham College, actively seek to significantly improve the 1:20 ratio of young people with learning disabilities who find paid work after they leave school. GLL joined the 'Steps into Work' scheme last September and as a result of its success, will be accepting new student placements again in September. Staff at GLL were also delighted to announce that two students who took part in the programme have subsequently been offered part time employment at GLL.
Mark Sesnan, Managing Director, GLL, said, "It has been a pleasure working with the students as part of the scheme over the last year. It is great to see how the placements have had such a positive impact on the students' confidence, with GLL staff also embracing the project and its ideals. The students have also learned crucial transferable job skills to benefit them long into the future, and I am delighted that some have even been offered employment at GLL as a result of the programme."
Mark Lunn, Remploy Business Development Director, said, "It is tremendously rewarding to see a practical example of how 'Steps into Work' is preparing young people with learning disabilities for the world of work. The students have clearly benefited from the valuable skills they have gained during their time at GLL."
Jane Hashmat, Steps into Work Programme Manager for National Star College, said, "The success of this National Star College Programme is reflected in the huge impact it has had on the lives of the learners, some of whom have already been offered employment, and the sense of achievement and increased confidence felt by each individual. Staff at GLL demonstrated a strong commitment to providing meaningful opportunities for learners to develop real work skills, which have been enhanced by bespoke job coaching provided by Remploy, who will continue to work with the learners to move them into employment. The graduation ceremony was an opportunity to recognise a strong partnership between NSC, GLL, Remploy and Barking and Dagenham College, as well as to celebrate the success of the learners."
For more information on the 'Steps into Work' scheme, visit www.natstar.ac.uk.