GLL celebrates 25 years as the UK's premier leisure and cultural social enterprise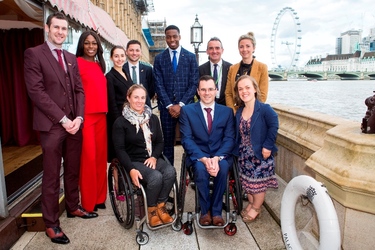 The event marked the social enterprise's growth and success over the past two decades encompassing both commercial and social value. 
Not only has GLL grown from a 7 centre business to one spanning 350 venues and 7 regions, it now provides training and development to 13,000 staff and reinvests £400m annually back into the communities in which it operates – including through initiatives such as the GLL Sport Foundation.
The GLL Sport Foundation provides financial and in kind support to talented young athletes.  Since 2008 it has provided £9.2m in funding and helped support 16,200 athletes.
The staff-owned leisure and cultural trust returned to the venue 10 years after it launched its Sport Foundation there in 2008. GLL Patron Sally Gunnell, OBE, was one of the inspirational big sporting names to attend the event which provided a timely opportunity for the not-for-profit to thank those sponsors, partners and supporters who have accompanied GLL on the journey from a small leisure trust to UK's largest public leisure and libraries operator and biggest independent athlete support programme.
GLL's MD, Mark Sesnan said:
"Today we celebrate not only the remarkable growth and success of our social enterprise business but the massively impressive social value we have created in our sector.
"We bring together those who have been on our journey, to offer them a huge 'thank you'.
"25 years is a great landmark but it's really just the beginning – going forward, the partnerships we are forging will bring a 21st Century 'public leisure legacy' nationwide.
"We'll continue to strive to be the exemplars in our field and prove that our alternative socially responsible operating model is the best one for boosting participation, reinvesting in communities and raising social value."
Ambassador and two-time Olympic medallists Lutalo Muhammad and Paralympian medallist Ellie Simmonds, OBE, joined Commonwealth Games Gold medallist Perri Shakes-Drayton in the roll-call of sponsored athletes.
Lutalo Muhammad said: "I have no doubt that without the support of the GLL Sport Foundation I would not have transitioned from a skinny kid to a two time Olympic medallist and had the opportunity to positively inspire future generations of young people to achieve sporting and wider life success."
Baroness Tanni Grey-Thompson said:
"GLL understand how 'The Golden Thread' of physical exercise has the power to change people's lives by hooking them in to provide a wealth of different opportunities.
"I'm proud to have hosted GLL's 25 Anniversary Reception at the House of Lords. Those attending have been the inspiration to others to get more active and enrich theirlives."                                                                                                                                  
Sally Gunnell, OBE, said:
"When I was asked to be GLL Patron in 2007,  I didn't realise how impactful it would be. The GLL Sport Foundation now supports 75 areas across the UK.  Thousands of athletes have been supported in their sporting journeys I'm very proud of what's been achieved and I know it will deliver equally important outcomes in years to come, helping future athletes and inspiring communities to be more active."
The GLL Sport Foundation (GSF) has provided £9.2m to support athletes in 117 disciplines, the majority of whom do not qualify for mainstream funding. 33 Olympic and Paralympic medals have been won by sponsored athletes.