GLL Celebrates Swim London's Adult Swim Courses at the London Aquatics Centre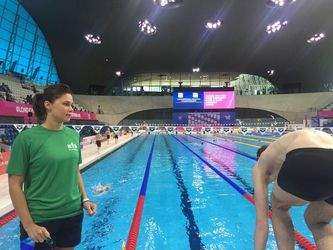 Over 50 London residents celebrated the successes of their adult learn to swim journey on Sunday 22 May with a special swimming event at the London Aquatics Centre.
The group, who have completed the first of three Swim London 2016 adult swimming courses, took part in a special swimming relay to showcase their new found confidence in the water. The event took place whilst the iconic venue was in full event mode for the London 2016 European Aquatics Championships. The team from Swim Waltham Forest took the trophy in the 50m sprint relay and all Swim London participants were presented with certificates and medals to mark their Learn to Swim achievements by GLL Sports Foundation supported athletes Daniel Fogg (GB Swimmer) and Cherrelle Brown (GB / England Boxer).
Swim London 2016 was set up as legacy project for the championships and offers those living in boroughs close to the Queen Elizabeth Olympic Park who are currently unable to swim, the exciting opportunity to take part in subsidised local swimming courses.
It is open to London adults from across all backgrounds and encourages them to learn the fun, life-saving skill as a group and support one another through the sessions.
GLL, the charitable social enterprise and the UK's largest provider of public swimming pools operate the London Aquatics Centre on behalf of the London Legacy Development Corporation (LLDC) along side over 100 pools UK wide. GLL works in partnership with ASA to host Swim London courses and events.
Swimming is a unique sport that can be enjoyed at any age. It is a great way for people of all abilities to stay healthy, and can also help with relaxation. However, research shows that just 1 in 5 adults in England can swim.1
Radio and TV presenter LadyXsize signed-up to take part in the first Swim London 2016 swimming course at the iconic London Aquatics Centre.
A dynamic fitness instructor and host of the weekly UK Health Radio show "LadyXsize Fitness Hour", LadyXsize is qualified in a range of fitness activities, but was not confident in the water:
"When I heard that so many adults in England can't swim, I was shocked. I was determined to learn how to swim properly. Previously I could only do around five or six stroke then I was done. Now, thanks to Swim London 2016, my confidence and ability in the water have grown immensely. I can honestly say that I now love swimming.
"London is an incredible city, with its diversity and mass of different activities on your doorstep, and the Swim London 2016 project is part of this rich kaleidoscope. I enjoyed learning with a group of people for different communities and for me it's important that anyone can swim.
"I hope that my journey and those of my fellow Swim London 2016 participants will inspire others to get involved and start swimming." said LadyXsize.
During the first stage of project, 12-week swimming courses were held at participating pools in Waltham Forest, Hackney, Queen Elizabeth Olympic Park and Tower Hamlets, with Greenwich set to join the programme for the second and third block of classes.
Tom Chambers, London 2016 European Championships CEO said: "The London Aquatics Centre is at the heart of Queen Elizabeth Olympic Park and we wanted this historic event to touch the lives of as many people local to the venue as possible.
"Swim London 2016 is a fantastic project which offers a unique opportunity for people to learn to swim whilst also make friends that we hope will last a lifetime. Grass roots participation and providing a wider social experience is key to Swim London 2016 and we are looking forward to seeing the project continue grow."
Nick Caplin, Director of Participation at the ASA, said: "The London 2016 European Aquatics Championships is a fantastic opportunity to inspire many local people to have a go at swimming and prove that it is never too late to learn to swim and have fun in the pool.
"While swimming is accessible for all, we do know that there are barriers for some people to getting in the pool and that's where this project's ground breaking social model for learning to swim has already made a huge impact. It is helping to break down these barriers engage new participants with the sport who might not otherwise have had the opportunity to be involved."
The courses are being held at GLL pools and Andrew Clark, GLL National Sport and Aquatics Manager, commented: "The European Aquatics Championships is an exciting prospect for everyone involved in sport, however for many adults in London the prospect of swimming is similar to many other common phobias. This may be due to the lack of opportunity to learn how to swim and feel confident in a pool, or an incident which may have put them off in childhood.  
"The key message is that you are not alone and it is never too late to learn. As a social enterprise and the largest operator of swimming pools in the UK, we are committed to giving everyone the opportunity to learn to swim and we are delighted to help more adults access this programme and to leave a legacy of London 2016."

Swim London 2016 - YouTube video 


To get involved with the next block of Swim London 2016 – London Learns to Swim courses follow @SwimLondon2016 on Twitter. For all corporate enquiries, please contact SwimLondon2016@swimming.org.