GLL commits to improving accessibility by signing Mental Health Charter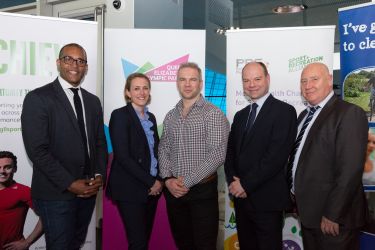 GLL – the UK's largest leisure charitable social enterprise - has announced its commitment to improving accessibility to its facilities for all sections of the community, by signing the Mental Health Charter.
The initiative is a collaboration between MIND and the Sport and Recreation Alliance. GLL – which operates over 300 leisure centres, gyms, libraries and children's centres under its customer brand, Better, is revising staff training modules, to increase mental health awareness.
GLL exists to get more people, more active more often – whatever their health conditions or personal circumstances.
Commenting on the Mental Health Charter signing at Queen Elizabeth Olympic Park's London Aquatics Centre on 29 March, Peter Bundey, Deputy Managing Director, GLL said: "GLL are proud to work alongside MIND and the Sport and Recreation Alliance to support the Mental Health Charter."
"Reviewing our offer in line with the Charter means embedding mental health awareness into staff training, to ensure that we continue to offer inclusive, accessible services.
 "With one in four people in the UK living with a mental health condition and the benefits of taking part in physical activity and sport clear for mind and body, it is crucial to provide services to all the community – and by doing so, tackle stigma, promote respect and boost participation."
GLL staff will also benefit from the Charter as it also promotes positive practice for the workforce, in terms of their development and wellbeing.