GLL Conference Targets Mental Health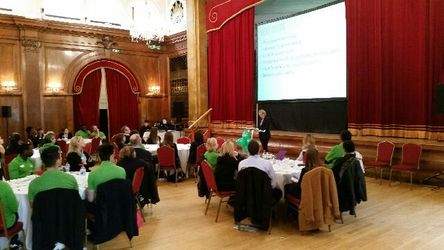 GLL held its first Better Health Conference on Thursday 14th April 2016. The event was held at Porchester Halls, Westminster and was attended by 70 GLL employees from the Better Health Teams, as well as many from the Community Sports Teams.  Representatives attended from across the UK with teams from London and the South East as well as the West of England, Cumbria, Manchester and Northern Ireland.
The purpose of the day was to raise awareness around mental health conditions and dementia. There were key note speakers from MIND and the Alzheimer's Society. Presentations increased awareness of issues relating to mental health conditions, as well as updated delegates on the MIND national campaign 'Get Set To Go' programme. All those in attendance received some great informative and interactive Dementia Friendly training and became Dementia Friends.
The conference also served as a fantastic opportunity for GLL staff working as part of our health and communities teams across the UK to network with each other, sharing and learning good practice.
Hayley Jarvis from MIND, who was at the event, said, "We are delighted that GLL are taking proactive measures to support those of us with mental health problems to get physically active through their Leisure Centres and Health programmes. Getting started when you have a mental health problem can be really difficult due to concerns around body image, self-confidence and the effects of medication.
Through our 'Get Set to Go' programme, funded by Sport England and National Lottery we have found that building in social, and fun, activities and creating a supportive, welcoming environment is crucial for both encouraging and sustaining participation. We look forward to supporting GLL to take the next steps to get more people with mental health problems active."
Esther Watts from Alzheimer's Society, said, "It was great to meet such a friendly and enthusiastic team at GLL. Several people mentioned that they had personal experience of a loved one with dementia, but everyone was interested to learn more. Becoming Dementia Friends is a great first step on the longer journey to making GLL dementia friendly".

Caitlin Thomas, Corporate Health Manager - GLL, said, "The conference was a great opportunity for us to bring everyone together, share experiences and learn more about issues that the teams are really passionate about. For us as an organisation, we're truly committed to working towards making a real difference in the health and wellbeing of the communities in which we work. Poor mental health should not be a barrier to becoming physically active. In fact, all evidence points to the fact that being more active more often raises mood, positivity and overall quality of life."