GLL crowned the 'fittest place to work'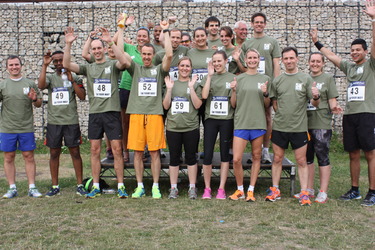 GLL, the UK's largest charitable social enterprise leisure provider, were officially crowned the 'Fittest Workplace' in July, after a team of GLL staff put on their running shoes to claim a number of wins at the '5K your Way' race in Hackney Marshes in London.
The race, which is a not-for-profit, well-being intitiative for public sector employees run in partnership with London Sport and MOTIVATE, saw GLL's Tereza Francoza the first lady home with a personal best result; Keith Griffiths celebrated a top four win; and Stephen Winfield came first in his age category. With such a solid finish throughout the top 20, this meant the GLL team secured the coveted overall prize.
GLL competed against a number of other public sector organisations on the day, including running teams from Islington, who came second in the fittest workplace competition, with Hackney Council claiming third place.
Mark Sesnan, Managing Director, GLL, said, "Congratulations to all 22 GLL staff who ran the race, and especially for doing so well. With a relatively small number of team members compared with much larger teams from different organisations, it was great to see us win the 'Fittest Workplace' title, proving it really is quality over quantity."
A spokesperson for 5K Your Way, said, "5K Your Way is an inclusive workplace physical activity initiative that aims to encourage public sector staff to live healthier lives. The fittest workplace award brings some friendly rivalry between to organisations to inspire walkers, joggers and runners alike to be the best that they can be, representing their organisation with pride. Congrtulations to Team GLL in winning the award and to everyone that took part."