GLL Libraries - visits and issues sustained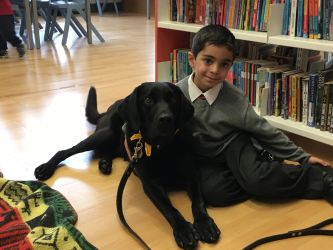 Confirmation that GLL - the UK's largest public libraries operator - is also good at running libraries comes this week with publication of the CIPFA (The Chartered Institute of Public Finance and Accountancy) figures for library use for 2016/2017.
Library use was up in London and Lincolnshire in a year that also saw GLL add two new library contracts to its growing portfolio, in a vote of confidence in the brand's ethos to keep libraries open and get more people using them.
Greenwich Library in London topped the league with the most visits made per 1,000 head of population for the second year in a row. 2,553,348 visits were made to Greenwich Libraries  (9,126 per 1,000) in 2016/17  (2,408,966 in 2015/16).
It was a similar good news story on the other side of the capital in Wandsworth - which gains the accolade of being London's second highest issuer of books with 1,414,828  issued  (1,432,685 in 2015/16).
Woolwich Library is the 2nd in London in terms of total visits – 1,187,332 (second to Wembley) and also  the 4th most visited in the country (after Birmingham, Manchester and Wembley).
GLL's National Libraries Director Diana Edmonds MBE said:
"GLL loves libraries and it seems from these figures that our customers agree we are doing a great job of running them.
"Our social enterprise model is different – we don't have shareholders to pay and instead we can invest in the service and we've got a wealth of experience to contribute to our communities.
"We are not only cost effective and offer our clients and customers an excellent value service but we are great at getting more people through the doors and issuing loads of books with the strength of our offer.
"In less advantaged areas our free WiFi and computer time is a huge draw and we will continue to invest in technology, facilities and service improvements to ensure they keep us at the forefront of library services nationally."
The CIPFA statistics come on the back of good news for Lincolnshire libraries which confirmed 1.76 million visits were made to the county's libraries in the 12 months to April 2017 since GLL took over the service – up 1 per cent. Lincolnshire libraries issues since April 2017 are up 23 per cent over the previous year.
Activities like toddlers' messy mornings, teenagers' coding clubs, senior citizens' knit and natter and a Roald Dahl themed Summer Reading Challenge brought in customers young and old, together with many families.
Dudley and Bromley were the top performing library services in their regions. GLL also took on library contracts for both authorities at the end of 2017.  Both authorities have a strong core user base which GLL will expand with a range of engaging events and initiatives in 2018.
Diana Edmonds added:
"GLL's Library results are a result of strong management of the service which now works to stretch targets and in close partnership with local Councils.
"The success is down to the high service standards, our product knowledge and kind and helpful library staff. We provide welcoming and attractive library buildings and an evolving offer that keeps the interest of the communities we serve through a wide programme of activities – employment, education, entertainment - and of course, for the sheer joy of reading."
"We've even welcomed assistance dogs into our libraries this year for the nation's biggest 'Dog Read' which combined the nation's love of reading with the nation's love of dogs."
GLL now manage 113 libraries across Bromley, Dudley, Greenwich, Lincolnshire and Wandsworth.