GLL proud to be one of the first '100 mutuals'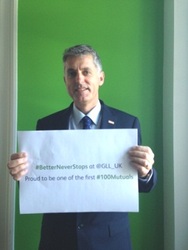 GLL, the UK's largest leisure charitable social enterprise, partnered with the Cabinet Office last week (21 to 25 July), to celebrate its achievement as one of the first 100 public service mutuals across England.
The '#100mutuals' campaign, run by the Cabinet Office, provided a week of marketing activities championing the delivery of excellent public services, including those offered by GLL to local communities. The campaign recruited the digital support of GLL's Deputy Managing Director, Peter Bundey, who provided a twitter "selfie", using the #100mutuals hashtag, and confirming our proud association as a mutual on the social media site.
Mark Sesnan, Managing Director, GLL, said, "Mutuals are teams of staff who have set up their own companies, normally not-for-profit, to continue to run services for public benefit, but with more freedom to act and react in the market place, as well as having the opportunity to expand and diversify.
"As a not-for-profit charitable social enterprise, GLL provide world class affordable leisure facilities for the whole community. Like other public service mutuals, we aim to deliver a better service for our customers, offer greater value for money across our facilities, and continue to drive local growth by engaging more people into sport and active living."
Minister for the Cabinet Office Francis Maude, said, "There are now 100 public sector mutuals across England and Wales. These are new businesses, employing 35,000 people and delivering services from community health to libraries. We know this is just the beginning of a massive transformation – we have even had interest from a fire service looking to mutualise."
A special event was also held at Number 10 Downing Street on 23 July, to help promote the #100Mutuals campaign.
Find more information on www.gov.uk.