GLL Sport Foundation to help 1,000 Olympic and Paralympic hopefuls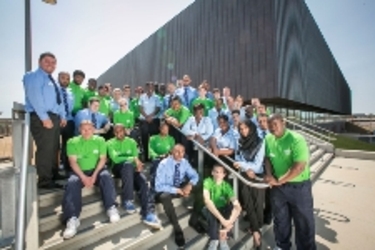 More than 1,000 talented young athletes from across London and the South of England are set to benefit from a £500,000 award pot - thanks to the GLL Sport Foundation, one of the largest independent athlete talent support structures in the UK.
With just over 100 days until the Games, the sporting charity announced its 2012 support package of financial and training awards on Monday 16 April 2012 at a VIP event held at the landmark 'BT Tower' in London.  Peter Bundey, Chair of the GLL Sport Foundation  announced the names of the successful applicants, accompanied by Foundation partner Tim Lawler of SportsAid.
The Foundation supports young athletes from more than 60 sports across Olympic, Paralympic, Deaflympic and Special Olympic disciplines.  A massive 90% of award recipients receive no other centralised funding, with more than 70% of award recipients being 20 years old and under, and more than 40% aged 16 years and under.  Athletes can benefit from funding of up to £1,250 to be spent on training, travel and equipment during the next 12 months as well as free access to over 100 GLL operated leisure centres.
Former Olympic, World, European and Commonweath Champion Sally Gunnell; Patron of the GLL Sport Foundation has remained committed to supporting young athletes since struggling herself to find funding support during her early years of competition  "As Patron I have been able to champion the need for positive recognition and tangible support directly to young sporting talent.  I know from personal experience that many young athletes struggle to meet the costs associated with increased training and competition to reach their sporting dreams."
"With the 2012 Games nearly upon us it is vital that our athletes receive the support required to achieve their sporting potential. It is also vitally important that there are support mechanisms and legacy programmes in place for the next generation of sporting stars and our local communities; we are working hard to achieve this."
During the evening, awards were presented to a selection of individual sports stars including Foundation Ambassador 'Ben Quilter' - Double Visually Impaired World Judo Champion who will be competing at the Games and some of the Foundation's younger athletes including Aydin Djemal and Hayley Willis, whom aspire to compete for GB at the 2016 Olympic Games in Rio de Janeiro. Ben explained "I am in final preparations for the London Paralympic Games with one clear focus on gold; this support importantly assists me in this quest".
Special awards were announced to further develop sporting pathways from grassroots to elite sport including; East London Lynx Sitting Volleyball Club, GLL London Titans Wheelchair Basketball Club, London Disability Swim Squad and Repton Boxing Club.
Peter Bundey, GLL Sport Foundation Chair stated "I would like to thank the Foundations  support network including our numerous local authority and public sector partners who provide training venues for the athletes; SportsAid for ensuring our direct linkage to National Governing Body pathways and to all our sponsors and supporters who fund the scheme".
"The Foundation is a significant part of GLL's legacy in the Olympic Park and to sport in the UK, we look forward to an amazing Games and developing the sporting legacy for all our athletes and local communities."
The GLL Sport Foundation was founded in 2008 with Sally Gunnell OBE as Patron.  It plans to give in excess of £1.5m to young athletes in selected areas of London and the South of England in the run up to 2012 and beyond.  Further information on the Foundation and details on how to apply for the next round can be found at www.gllsportfoundation.org
Notes to Editors
Tickets for the London Grand Prix go on general sale on Monday 4th February 2013. For further information or to purchase tickets to the event please visit
BADMINTON England is the sport's governing body in England. Based at the National Badminton Centre in Milton Keynes, it provides a structure for the sport?from managing the GB programme preparing the country's top players for the Olympic Games on behalf of the other home nations, to developing the pathway for aspiring players to progress from schools and clubs to the national squad, and to encouraging more people, both adults and young people, to just pick up a racket and get on court.
For further media information on BADMINTON England please contact:
Kate Manning, email
katemanning@badmintonengland.co.uk or mobile 07825 094 719