GLL wins capital's top safety award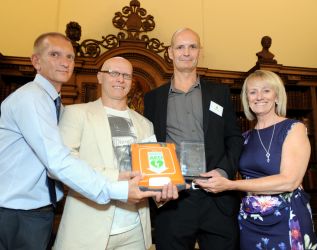 GLL - the UK's premier charitable leisure social enterprise and largest provider of public swimming has won a prestigious safety award.
Staff at Finchley Lido were overall winners in the Community Award – the location saw a much-publicised resuscitation of a customer in 2015. 
Special commendation was given to the Waterfront Leisure Centre who made the final shortlist in the same award category, and GLL who were also shortlisted finalists in the Organisational category. 
Since 2011, GLL has been ahead of the curve, training an increased number of staff to deal with cardiac arrests in its gyms and pools. 
In 2016-17, there were 12 cardiac arrests on GLL premises within the London area and the prompt action of trained and highly skilled staff saved 9 lives in total.
Michelle Howe, GLL's National Standards and Compliance Manager said: "To maximise a casualty's chances of survival following a cardiac arrest, it is vital that the first responders are trained and know what to do.  Those minutes before an ambulance arrive are vital to a patient's chances of a successful outcome and GLL's commitment to life saving training and technology is acknowledged through these awards."