GLL wins 'Employer of the Year'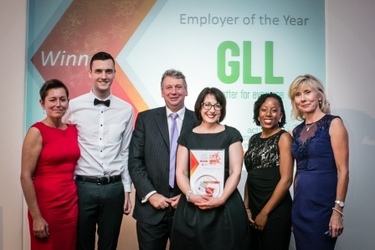 GLL, the UK's largest leisure charitable social enterprise, beat tough national competition on the 27th November at the 'ukactive Training Awards' by being crowned 'Employer of the Year 2014'. The awards are the first and only accolade of their type that celebrates exceptional performance and commitment in vocational training and development within the physical activity sector.
Around 150 training providers, employers and learners came together to celebrate excellence in education that saw GLL up against nominees in the same category including: Your Personal Training, Fitness First, Nuffield Health, and Place for People Leisure. Those shortlisted were subject to a rigorous three stage assessment process featuring a written assessment, a review of both learner and employer feedback and an expert panel including Tara Dillon, Chief Operating Officer, CIMSPA and Leanna Jones, Head of Professional Workforce, Sport England.
Mark Sesnan, Managing Director, GLL, said, "We are thrilled to have been awarded Employer of Year at the inaugural 'ukactive Training Awards'. As a charitable social enterprise, we are committed to getting more people, more active more often, we believe that our staff, and the development opportunities we provide to them, is fundamental to our success.
"With almost 7,000 staff who help run 145+ leisure and sport facilities across the UK, we remain committed to offering unrivalled training and employment programmes to encourage career opportunities, and to help drive our work in local communities across the country."
David Stalker, Chief Executive Officer, ukactive, said, "Our workforce is the bedrock of the physical activity sector and the investment delivered in this area is crucial to equip our professionals to guide and influence behaviour change at grassroots level."
"Training providers make a critical contribution to the advancement of our sector; be they apprenticeship providers, specialist training companies or employers implementing effective internal solutions. These Awards allow us to recognise their contribution, celebrate success and make sure our industry solutions are cutting edge."
Notes to Editors: About GLL Established in 1993, GLL is the largest UK-based charitable social enterprise delivering leisure, health and community services. We operate over 145 public sport and leisure centres and 27 libraries (including three prison libraries) in partnership with over 30 local councils, public agencies and sporting organisations. Our leisure facilities enjoy more than 39 million visitors a year with over 450,000 members.
Alongside our core leisure and library divisions, we also operate in sport and legacy development, health intervention and education - as well as offering the GLL Sports Foundation, one of the largest independent support programmes for talented young athletes in the UK.
For more details contact: Donna Mitchell PR and Communications Manager, GLL T: 07813 458 258 E: donna.mitchell@gll.org