Healthier vending machines installed by GLL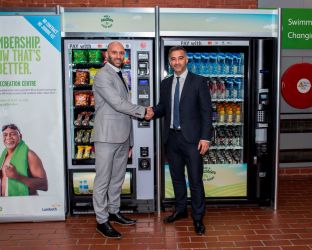 GLL has introduced a new healthier approach to vending machines, encouraging reduced calorie intake and sugar consumption at its Better leisure centres in London.
A partnership led by GLL, Selecta (the vending and self-serve retailer) and several London councils has presented a healthier range of snacks and drinks for local people to enjoy as part of their work-out.
GLL shares the ambition to tackle rising levels of obesity and health inequalities by reducing sugar intake.
The new approach to vending machines includes: 
replacing many chocolate bars with nuts and nibbles
replacing sweets with sugar free alternatives; and
replacing crisps with popcorn or lighter options.
The changes mean that the new healthier vending machines contain significantly less calories and sugar - the equivalent of up to 1000 sugar cubes have been removed from a typical machine. 
The health merits of the vending product range - which complies with the Government Buying Standards (GBS) include:
Products selected for their nutritional profile, organic and sustainably resources ingredients or suitability to specific consumer groups (e.g. vegan friendly)
On machine messages to encourage healthier choices
Sophisticated contactless payment with the latest telemetry
Simon Sen, GLL's Regional Director for London West said:"Many people use vending machines for an 'after workout snack' but these don't have to be loaded with fat, sugar and salt and there are equally delicious and healthier alternatives out there.
"Customers have told us they would like to switch.  So we are following their lead while supporting the growing movement across the leisure sector to bring healthier change."
Alec Guthrie, Channel Marketing Manager,Selecta said: "At Selecta, we are committed to offering customers and consumers good quality, healthier options. We are pleased to be working with Better to help them meet their health and wellbeing goals, as well as the needs of their customers. Through offering this range we are working together to make the healthier choice the easy choice."