Jo Calvino's fifth at Commonwealth is worth its weight at GLL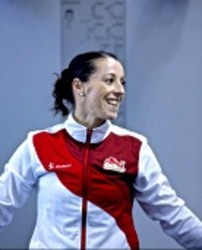 Staff at GLL, the UK's largest leisure charitable social enterprise, were cheering on loudly on last Thursday (24 July), as staff member and GLL Sport Foundation athlete Jo Calvino, came fifth place in women's weightlifting at the Commonwealth Games in Glasgow.
Jo, who by day is Regional Aquatic Development Officer at the GLL-run, iconic London Aquatics Centre on the Queen Elizabeth Olympic Park, divides her time as a diving coach and multi-aquatics sports coordinator at the London Aquatics Centre, and weightlifter in competitions across the world.
Competing in the 48kg weight category, Jo lifted 66kg in the snatch, and 84kg in the clean and jerk at the Commonwealth Games on Thursday. Overall, she finished 23kg behind gold medallist Sanjita Khumukcham of India, and 12kg behind Nigeria's Nkechi Opara in bronze.
Jo, said, "The road to Glasgow has been challenging in many ways, but I am always proud to represent England especially in my fourth Commonwealth Games. The help and support I receive from the GLL Sports Foundation is essential, alongside the support I have had from my team and colleagues.
The competition and atmosphere was fantastic here in Glasgow, I enjoyed every second of it. Although I finished 5th in a tough field, my performance still fills me with frustration and disappointment, although I can also find positives in what I have achieved. Now it's back to the drawing board to see what the next goal is."
Peter Bundey, Deputy Managing Director, GLL, and Chair of the GLL Sport Foundation, said, "We founded the GLL Sport Foundation, so that we could help support athletes like Jo. Coming fifth in such a high profile competition like the Commonwealth Games is testament to Jo's hard work and drive. We are proud that Jo is part of the GLL Sport Foundation, and look forward to working with her on her next journey."
Jo originally started her sporting career as a diver, but made the switch to weightlifting when her coach Keith Morgan recognised her potential to be a great weightlifter. She trains at the Crystal Palace Weightlifting Club at the GLL-operated Crystal Palace National Sports Centre, and has won a phenomenal eighteen British titles in the 53kg class.