London Aquatics Centre celebrates its first birthday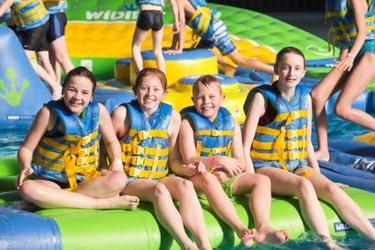 Over 4,600 people from all over London flocked to the London Aquatics Centre on Sunday (1 March), to celebrate its first birthday and a successful year as London's iconic sporting legacy venue.

To mark the occasion, GLL, the UK's largest leisure charitable social enterprise who operate the venue on behalf of the London Legacy Development Corporation (LLDC), hosted a day full of taster sports sessions including its unique Extreme Aqua Splash water assault courses, swimming competitions and synchronised swimming, diving, sprint challenges with England Athletics, yoga and water polo.

Special guests on the day included: Aimee Willmott, Commonwealth Games medallist and London 2012 Team GB Swimmer and Jade Johnson, GSF Athlete and Commonwealth medallist in the Long Jump, who attended to join in the celebrations and meet the crowds for photograph's with the London 2012 Olympic Torch.

With 750,000 visitors between 1st March 2014 and 28th February 2015 the London Aquatics Centre has established itself as a world class sporting venue and popular resource to the local community since in reopened in March 2014, following the success of 2012 London Olympic and Paralympic Games. The facility has hosted numerous high profile events including the FINA/NVC World Diving Series, Invictus Games, Sport Relief and is now home to the Tom Daley Diving Academy also run by GLL.

Peter Bundey, Deputy Managing Director at GLL, said, "The London Aquatics Centre is a truly unique and exceptional venue and we have been delighted by the response we have received from both the general public and elite sportsmen and women since it reopened last year.

"The building's incredible architecture and its location in Queen Elizabeth Olympic Park has made it a 'go to' sporting and leisure destination. We are committed to making the venue a beacon to show what Olympic and Paralympic legacy can achieve and we are working hard to ensure this is felt by all sections of the community."

David Goldstone, Chief Executive of the London Legacy Development Corporation, said, "The London Aquatics Centre has proved to be a huge success with nearly 750,000 visitors already enjoying the benefits of having a world-class venue at Queen Elizabeth Olympic Park. As the London Aquatics Centre celebrates its first birthday, it has already established itself as home to a wide variety of sports clubs and activities for elite athletes and local children learning to swim. It has also hosted an exciting range of events from Sport Relief to the Invictus Games and we look forward to welcoming the FINA/NVC Diving World Series, British Swimming Championships and 2016 European Swimming Championships."
-Ends-

Notes to the editor

About the London Aquatics Centre

• The London Aquatics Centre is operated by GLL, a charitable social enterprise on behalf of London Legacy Development Corporation.
• 750,000 visitors to date
• 2800 enrolled in Swim School programme and a further 300 primary school pupils taught each day as part of national curriculum
• Construction on the venue began in July 2008 and was completed for the Games in July 2011.
• The venue offers inclusive disability access and sessions as well as single sex, parent and child, family, fun and fitness sessions.
• The London Aquatics Centre offers affordable swimming/diving lessons and sessions to all ages and abilities.
• The London Aquatics Centre hosts a variety of fitness sessions including use of the gym and dry diving.
• The London Aquatics Centre is a unique training venue for stars of the future with access to local and London swimming clubs.
• The London Aquatics Centre was used in Games time for Swimming, Diving, Synchronised Swimming, Modern Pentathlon and Paralympic Swimming.
• The three pools contain 10 million litres of water and are lined with 180,000 tiles.
• There are almost 600,000 tiles in the whole building. Paralympic swimmer Liz Johnson laid the last tile in April 2011.
• The facility's spectacular wave-like roof is 160m long and up to 80m wide – giving it a longer single span than Heathrow Terminal 5. It rests on just three concrete supports.
• The building is 45m high.
• The aluminium roof has 50 per cent recycled content.
• The Aquatics Centre uses 32 per cent less potable (drinking) water compared to other pools. This is achieved by using low flow fittings and recycling water.
Key dates for 2015/16:

25th Feb 2015               Inspiring Women in Sport
7th March 2015 RLSS National Speed Championships
14th- 18th April 2015      British Swimming Championships 2015
19th April 2015              Swimathon 2015
1st-3rd May 2015           FINA/NVC Diving World Series
26th July 2015               National Paralympic day
9th – 22nd May 2016      European Swimming Champs
 
About GLL

Established in 1993, GLL is the largest UK-based charitable social enterprise delivering leisure, health and community services. We operate over 145 public sport and leisure centres and 27 libraries (including three prison libraries) in partnership with over 30 local councils, public agencies and sporting organisations. Our leisure facilities enjoy more than 39 million visitors a year with over 490,000 members.

Alongside our core leisure and library divisions, we operate in sport and legacy development, health intervention and education - as well as offering the GLL Sports Foundation, one of the largest independent support programmes for talented young athletes in the UK.
 
About Queen Elizabeth Olympic Park

London's newest visitor destination, Queen Elizabeth Olympic Park, is a place unlike any other. Visitors to the Park are able to enjoy beautiful parklands and waterways, world-famous sporting venues, arts and events and spectacular views from the ArcelorMittal Orbit. As a new heart for east London, the Park will also provide new homes, jobs and a cultural and education quarter.

The London Legacy Development Corporation promotes and delivers physical, social, economic and environmental regeneration in Queen Elizabeth Olympic Park and the surrounding area, in particular by maximising the legacy of the London 2012 Olympic and Paralympic Games.