SOCIAL ENTERPRISE GLL CELEBRATES NATIONAL VOLUNTEERS WEEK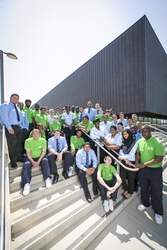 GLL, the not-for-profit charitable social enterprise who operate a wide range of leisure, sporting and cultural facilities, is celebrating National Volunteers Week from 1st-12th June.

Currently, GLL have 80 volunteers working across 28 facilities, UK wide. As a charitable social enterprise, GLL reinvest to 'put back' into local facilities and communities - including offering opportunities to volunteer in different areas, from sports and fitness to libraries and education.

GLL recognises the benefits that volunteers can bring - from providing additional activities for customers and service users to creating work experience for people from all sections of society to extend their skills and build links between GLL's services and facilities and the communities they serve.
Peter Smulders, GLL events volunteer, said: "Volunteering has given me great experiences, I very much enjoy meeting top athletes and journalists using the different languages I speak, as well as spending time with volunteers who are keen to practice their English.

"I got the chance to volunteer at the recent LEN European Aquatics Championships at the London Aquatics Centre with friends I met volunteering at the 2012 Summer Olympics in London, which was very enjoyable."

Director of Human Resources at GLL, Jeff Lynch, said: "We have a commitment to building a workforce that reflects the diversity of our local communities and brings the benefit of a wide range of backgrounds and experience.
"As a social enterprise, GLL are keen that the opportunity to volunteer is widely available as both a route into employment and a way to give something back to society."

GLL volunteers benefit from employment-type training whether funded or part funded and are guaranteed an interview for any GLL job vacancy for which they meet the minimum criteria.

For more information on volunteering with GLL, go to: www.glljobs.org/careerswithus/volunteers



ENDS 
Notes to editors:
About GLL/Better
Established in 1993, GLL is the largest UK-based charitable social enterprise delivering leisure, health and community services. Under the consumer facing brand Better, the organisation operates more than 200 public sport and leisure centres and 57 libraries in partnership with more than 30 local councils, public agencies and sporting organisations. Better leisure facilities enjoy 40 million visitors a year and have more than 650,000 members.
GLL exists to make community services and spaces better for everyone. In practice, that means investing all profits back into providing quality leisure and fitness facilities for the good of the communities where GLL operates. Alongside the organisation's core leisure and library divisions, GLL runs sport and legacy development, health intervention and education, as well as offering the GLL Sports Foundation, one of the largest independent support programmes for talented young athletes in the UK.