Wandsworth Libraries celebrate National Libraries Day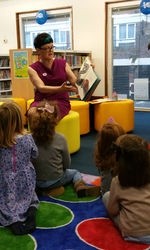 Wandsworth Libraries threw their doors open to residents young and old as they celebrated National Libraries Day – 6 February.
The UK-based initiative celebrates all that's good about libraries and Wandsworth Libraries took the opportunity to showcase the great events, offers and wide range of services local communities - and now businesses -can enjoy inside, many of them for free.
To mark the occasion Baroness Neville-Rolfe, Parliamentary Under Secretary of State at the Department for Business, Innovation and Skills and Minister for Intellectual Property visited Northcote Road Library.
She met with deputy leader of Wandsworth Council Jonathan Cook and Diana Edmonds, Head of Libraries at GLL which runs Wandsworth's libraries on behalf of the council.
Baroness Neville-Rolfe brought her grandchildren and Cllr Cook was accompanied by his daughter, all of whom joined in a badge-making workshop with local children. The Baroness also read a story to young listeners.
She also heard about outline plans for the library to expand its services further to meet the needs of the wider local community – including providing meeting space and facilities for entrepreneurs and small businesses.
Gail's Artisan Bakery provided refreshments on the day.
Northcote Road Library has long been at the heart of the local community since its earliest origins in a shop. Now housed in a three storey building, the library is particularly well-used, with visits from local schools and many children's activities, such as Baby Rhyme Time and a Dual Language Story Session. There are many French and Italian speakers in the area – and the dual language provision is very popular.
 Wandsworth's libraries are some of the busiest in the country - visited a total of 1,427,518 times in 2014/15 with 1,459,882 books issued.- over half of these were children's books showing that sharing a love of reading is high on the list of local parents' priorities.
Baroness Neville-Rolfe said:
"Libraries are vitally important to local communities as trusted, free and open spaces for everyone to use.
"Wandsworth's Northcote Road Library hosts wonderful projects for all ages to enjoy, while also encouraging a love of reading."
Cllr Jonathan Cook, Deputy Leader of "Wandsworth Council said:
"We love our libraries here in Wandsworth and I'm delighted Baroness Neville-Rolfe and her grandchildren were able to join us here today to celebrate the fantastic role they play in our community. I also want to thank GLL for the great work they do across our library network which has gone from strength to strength under their expert supervision."
Diana Edmonds, Head of Libraries, GLL which runs Wandsworth's libraries on behalf of the council said: "GLL aim to keep Wandsworth's Libraries first class and relevant to the needs of the local community.
"As a charitable social enterprise, we exist to improve the health and wellbeing of local communities. Reading is such an important measure of the prosperity of local life – so we'll continue to invent and evolve, making our libraries warm and welcoming spaces not just for readers but for businesses too."
Wandsworth Town and Battersea Libraries also led events for National Libraries Day attended by dozens of local people.
Baroness Neville-Rolfe's visit to Wandsworth Libraries follows January's visit from Ed Vaizey, the Minister of State for Culture and the Digital Economy.
Ed Vaizey met staff and users at Battersea Library at the launch of Halifax Digital Champions, a unique national project that brings together 6,000 bank volunteers, Society of Chief Librarians and enthusiastic public library staff to help customers span the 'digital divide' with IT taster sessions designed for first time users.
National Libraries Day comes before World Book Day (3 March) aimed at turning millions of kids into millions of readers.
Libraries in the UK were visited 265 million times last year.