Welcoming Bromley libraries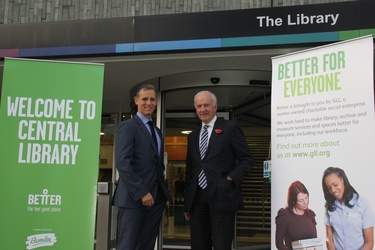 GLL, the UK's largest provider of public libraries, has entered a 10-year partnership with Bromley Council – to operate library services throughout the borough.
The news confirms the number of GLL-operated libraries under the Better brand, has risen to over 100 and generates savings for the council thereby helping protect the library service and other frontline services, including those for the most vulnerable. 
GLL was appointed the new operator following a tendering exercise, with the specifications meaning that the successful provider would need to operate the existing library service, with the same number of libraries and existing staff – as well as a commitment to maintaining opening hours for all 14 libraries.
Councillor Peter Morgan, Executive Councillor for Renewal and Recreation said, "We are very proud of our library service, which is demonstrated by the multi-million investment we have made and the way we have looked to protect this service.  We are pleased to welcome GLL, who are an experienced libraries operator, to the borough to manage our library service.  It is very much business as usual, with opening hours unchanged and the same levels of staff continuing to serve residents of this borough and the many others that use our libraries."
Chris Symons, Director of Development at GLL said, "We are excited about managing Bromley libraries – bringing our wealth of experience and innovation in providing high quality library services that local people want. Where we operate libraries, footfall increases as we attract readers of all ages into brighter, more modern facilities.
"We are looking forward to working with staff and customers to demonstrate the positive "difference a social enterprise can make at community level."
To find your nearest Better library, click here.