GLL hails new era for Lincolnshire Libraries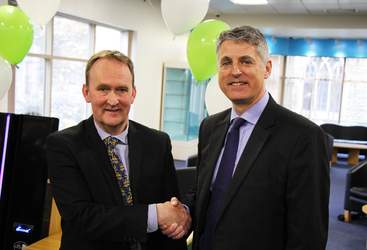 Monday 4 April saw the official launch of the latest chapter in GLL's successful partnership with local authorities as the UK's leading leisure charitable social enterprise took over the day-to-day management of Lincolnshire County Council's Library Service.
Not-for-profit GLL will manage the county's 15 major libraries, online library services and specialist support for those unable to reach their nearest library because of disability. In addition to running core library services, GLL will support a network of more than 30 community hubs that have been developed by the council in partnership with local groups.
Peter Bundey, Deputy Managing Director for GLL, said: "GLL is the UK's largest leisure charitable social enterprise with extensive experience in providing high quality library services and boosting library visits and book loans.
"We are excited about managing libraries across Lincolnshire developing services to meet the interest and needs of local communities.
"GLL are looking forward to working with LCC across the service, covering 15 libraries and supporting over 30 community hub locations. 
"We are hitting the ground running with new plans for a Reading Garden and Teenage Library in Lincoln and a revamped Mobile Library in Mablethorpe – on top of scheduled library activities like the Summer Reading Challenge, Home Library and IT tasters.
"These are exciting times, as we aim to increase library footfall and attract and welcome readers of all ages." 
Senior figures at GLL and LCC plus library users and staff attended the handover ceremony where a cake was cut in celebration of the event's significance.
Cllr Nick Worth, Executive Member for Libraries, said: "It's great to have GLL on board, and I'm confident that, together, we can both improve our library services and deliver significant savings.
"Nowadays, libraries are about much more than just books. We want to be sure our libraries stay at the heart of their community, and, to do that, they need to change with the times.
"So we'll be working with GLL to make sure our libraries continue to provide the right range of services, the services people need, hopefully bringing a few new customers through the door in the process."
The undertaking - in England's fourth largest county - is both extensive and impressive. GLL will review everything from the quality and variety of the book stock to the availability of IT to the attractiveness and décor of the libraries to ensure the best possible library service is provided.
Notes to editor
Lincolnshire's 15 core libraries are: 
Lincoln Central
Grantham
Boston
Spalding
Gainsborough
Stamford
Skegness
Louth
Sleaford
Mablethorpe
Bourne
Long Sutton
Woodhall Spa
Market Rasen
Horncastle