Bromley Business Week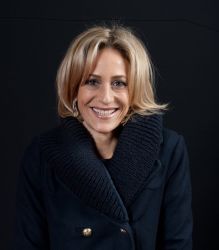 Leading broadcaster and journalist Emily Maitlis will be one of a number of high profile and expert speakers to take part in the Start Up Bromley Business Week 2022, which runs from Monday 14th March to Saturday 19th March.
A host of events have been scheduled including workshops, a business panel and the competition final of a Bromley Business Pitch competition.  All the events are FREE, take place in libraries across Bromley and are designed to support the local small business community.
The highlight of the week will be a Business Panel discussion that draws on leading experts and commentators.  Moderated by Emily Maitlis, who was voted one of the 50 most influential people in the UK, the panel will also include David Smith, Economics Editor for the Sunday Times, Rene Perkins co-founder of CityMaaS an award-winning inclusive technology company, Lauretta Wright, Publisher of the community magazine group Life in… and Neil Mitchell co-founder of the Ollie Polly Play Café.
Later in the week the final of a 'Dragon's Den' style Business Pitch competition will take place.  Six Start Up Bromley members will deliver a live pitch to a team of expert judges, hoping to win up to £2,000 to invest in their business.  Former Sky News, Bloomberg TV and Reuters journalist and presenter Sasha Qadri will facilitate the session.
The week's full programme of FREE activities comprises:
14th March – E-commerce Deep Dive: Selling Your Products Online
15th March – Legal and Compliance: What your business should know
15th March – Business Panel – the Entrepreneur Experience in the UK
16th March – Human Resources for small businesses
17th March – Business Pitch competition final
17th March – How do you protect a business idea?  Understanding IP
18th March - Meet the buyer: How to get your product in stores
19th March – Spring Marketplace
Commenting on Bromley Business Week, Martin Stone Sector Libraries Manager for GLL the charitable social enterprise that operates Start Up Bromley said: "Bromley Business Week 2022 is an absolute 'must' for any small business owners or managers, entrepreneurs or budding entrepreneurs.  We've worked really hard to pull together a programme that covers some of the most challenging aspects of setting up or running a business and we are really proud of the calibre of speakers we're tabling: from successful entrepreneurs to leading business journalists and broadcasters."
For more information and to sign up to the FREE events visit:
 https://www.eventbrite.co.uk/cc/start-up-bromley-business-week-158799
Start Up Bromley is operated by charitable social enterprise GLL, on behalf of Bromley Council and provides support to aspiring entrepreneurs and new businesses in the borough of Bromley.
-Ends-
Notes to the editor
Photograph show: Emily Maitlis broadcaster and journalist who will be hosting a Business Panel during Bromley Business Week 2022
About Start Up Bromley
Start Up Bromley is about building a thriving local business community, focusing on established Bromley businesses helping new and emerging companies in the borough. Start Up Bromley hosts regular workshops both virtually and in person covering different aspects of starting up, launching and building a business. Speakers from a variety of companies wshare their knowledge and experience for Start Up Bromley members.