Celebrating 15 years of the GLL Sport Foundation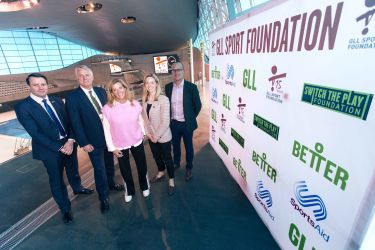 Charitable Social Enterprise GLL have announced 2,000 athletes will benefit from the 2023 intake of its Sport Foundation – the largest independent athlete award programme in the UK.
A £1.2m fund comprised of financial bursaries, training and access memberships, physiotherapy and more will support talented athletes with the cost of preparing for and participating in national and international competition.
Over 15 years, the GLL Sport Foundation (GSF) has continued to be at the forefront of developing local young athletic talent with an impressive 25,000 awards totalling £14m having been made since 2008.
Always striving to expand the range of support for athletes, the next development of the programme is to offer mental wellbeing support through a new partnership with Switch The Play Foundation (STPF).  This initiative will help a diverse range of athletes receive a full balance of support in an often challenging environment.
Aspiring and established athletes with GSF awards can access STPF services.  This will cover athletes while they are training, competing at the highest level and helping them to prepare for when their athlete careers have finished.
STPF's holistic, wrap around mental wellbeing support services include TEAMmate, a confidential emotional support helpline, as well as masterclasses on topics relating to self-care and resilience, and access to video resources, guides and podcasts providing top tips.
Speaking at the London Aquatics Centre on Thursday 27 April, GSF Patron Sally Gunnell OBE said: "Today, the importance of understanding and managing the mental health of athletes is well understood.  We can see across sport that this agenda is increasing its profile and we are delighted that GSF are able to accommodate this into our athletes' progression."
STPF CEO Rob Young said:  "Like STPF, GLL are an organisation that cares passionately about supporting athletes at every stage of their lives and understands the importance of protecting and enhancing the wellbeing of sportspeople.
"High level sport is all about achieving your full potential but it should not be at any cost.  As we have seen, many athletes sacrifice much and struggle to address their mental health at times.
"But we are here for them and look forward to complementing other support that may be available to them by offering that helping hand when it's most needed."
"Many athletes can struggle to maintain positive wellbeing through their sporting careers and in their transition to normal life following elite competition. STPF's support is considered 'life changing' in some cases - helping individuals overcome personal obstacles and find their purpose in life after sport."
Since its inception, the GSF has placed significant importance on its thriving partnership with SportsAid and other national sports bodies to ensure the programme works alongside existing national sporting pathways.
Tim Lawler CEO of SportsAid said: "To mark 15 years of the GLL Sport Foundation is such a positive, uplifting moment to be part of. What a wonderful, feel good milestone.
"We are very proud that SportsAid has shared the majority of those years working in partnership with the Sport Foundation and together we've been able to help hundreds of young sports people to develop their potential. 
"GLL's reputation as a force for good in communities is well documented – to commit even further to create the Sport Foundation reflects so strongly on the values and principles of everyone involved. Here's to the next chapter of the Foundation's work and to our enduring, impactful partnership together."
GSF Chair Peter Bundey said: "As we celebrate our first 15 years of the GLL Sport Foundation, we are delighted to add this new level of support to our athlete development programme. The impact of this new partnership cannot be overestimated – it's going to be a potential major help for thousands more athletes who can now access bespoke mental health support as part of their GSF Award."
"Together with our partners, we are making a real difference to help enrich lives through sport and at the same time supporting many of the UK's next generation of sporting talent."