GLL and Pickleball England Announce New Partnership to Mark World Pickleball Day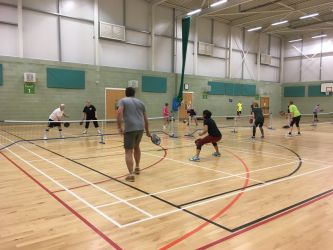 GLL, the charitable social enterprise that operates Better leisure centres across the UK, is announcing a new partnership with Pickleball England on World Pickleball Day (10 October), which will see more pickleball courts, club sessions and the introduction of competitions and festivals, hosted at Better facilities over the coming 12 months.
Fast becoming one of the most popular racket sports in the world, pickleball brings together some of the best elements of tennis, badminton and table tennis and is a fun, exciting game for people of all ages and abilities.  It is played on a court the same size as a badminton court, using a shorter tennis-style net.  Players use paddles to hit a plastic ball between one another across a net.
Loved by celebrities from Leonardo DiCaprio to Bill Gates and Kim Kardashian, pickleball is America's fastest growing sport* 2023 with 36.5M Americans having played Pickleball during the past year**that's 14% of the population.  The fastest growing age bracket for participants is the 18yrs – 24yrs group.
Commenting on the new partnership, Andrew Clark, Head of Sport at GLL said: "Pickleball is one of the fastest growing sports in the world.  Its popularity stems from the fact it is easy to master, fun and sociable to play and suited to all ages and levels of fitness.  We're delighted to be working with Pickleball England to bring this fantastic game to more people across the country and expect to see its popularity grow rapidly within the UK as it has done in other countries."
Karen Mitchell, Chair & Co-founding Director of pickleball England added: ' We're thrilled to announce our new partnership with GLL. Pickleball is a fun, accessible sport for any age and ability and the rapid growth we've seen in our sport to date is testament to that. GLL is the perfect partner to further increase pickleball participation across the UK, and we want to encourage as many people as possible to get involved with the sport by coming along to one of the upcoming sessions at their local Better leisure centre.'
To celebrate World Pickleball Day, Better leisure centres across the UK will be running Pickleball taster sessions for anyone who wishes to give the game ago.  Participating locations include:
Bartholomew Sports Centre, Witney Oxfordshire
Brook Leisure Centre, Belfast
Carterton Leisure Centre, Oxfordshire
Didcot Leisure Centre, Oxfordshire
Gunnersbury Park Sports Hub, Chiswick London
Henley Leisure Centre, Oxfordshire
Kendal Leisure Centre, Cumbria
Lisnasharragh Leisure Centre, Belfast
Moss Side Leisure Centre, Manchester
Olympia Leisure Centre, Belfast
Peter May Sports Centre, Waltham Forest London
Tadworth Leisure Centre, Epsom
The Hive Leisure Centre, Ely Cambridgeshire
The White Horse Leisure Centre, Oxfordshire
Wantage Leisure Centre, Oxfordshire
For further information and to book a Pickleball taster session on World Pickleball Day visit: www.better.org.uk