GLL Celebrates 30th Anniversary at House of Commons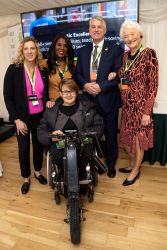 The UK's foremost charitable leisure & library social enterprise GLL marked its first 30 years with a special celebration at The House of Commons (2 November) attended by an array of industry, sporting and library leaders alongside politicians and Members of the House of Lords.
The staff-owned co-operative, which runs over 350 public facilities including swimming pools,  libraries, sports centres and children's centres under the 'Better' brand, welcomed keynote speakers The Rt Hon Lady Glenys Thornton, former GB track and field champion Sally Gunnell OBE and CILIP Library Champion and broadcaster Bobby Seagull.  Each added their support to GLL's remarkable three decade journey from a small 'spin out' in Greenwich to the largest national provider of public libraries and leisure centres in the UK and providers of the UK's largest independent athlete support programme – operating from Bromley to Belfast, and from Cumbria to Cardiff.
GLL sees itself very much at the heart of community health and wellbeing and works to tackle inequality and protect and modernise essential public services. By prioritising expanding accessible public leisure and cultural facilities, GLL (which returns all surpluses to improving local communities) has devised a model that is self-sustaining and truly for public good.
The event also saw GLL present its ambitious 5 Year Corporate Plan 'Creating our Future' that will deliver £2bn in social value, get 1m more people more active across 5 years, reduce energy use and see a ground-breaking launch of the GLL Literary Foundation.
GLL CEO Peter Bundey said: "GLL is a unique organisation, a staff-owned co-op that shows social enterprises can succeed at national scale.
"Over 30 years we have expanded our public service offer, bringing measurable benefit to local communities - while keeping facilities open in challenging circumstances.
"As the largest player in our sector we have responsibilities to lead the way and our next 30 years will see us do just that, working closely with our partners and clients to improve the mental and physical wellbeing of the nation.
"I want to take this opportunity to thank everyone who has been part of our journey."
In addition to celebrating 30 years of GLL, the event also marked 15 years of the GLL Sport Foundation (the largest independent athlete support programme in the UK) and 10 years of running public libraries; GLL operates facilities in Bromley, Dudley, Greenwich, Wandsworth and Lincolnshire and has some of the highest borrowing rates in the UK.
Long time GLL advocate The Rt Hon Lady Glenys Thornton said: "GLL is a beacon for value–led leisure services and a great supporter of athletics and libraries too.  Happy 30th Birthday GLL."
CILIP Library Champion and broadcaster Bobby Seagull noted GLL had been operating public libraries successfully for 10 years and called for ongoing national support: "Libraries are knowledge and the central lynchpin of communities.
"The UK is a nation of readers and we need physical libraries in our communities."
Commenting on GLL's support of athletes over 15 years, GSF Patron and former GB track and field champion Sally Gunnell OBE said: "GLL's impact has been undeniable - supporting dreams and aspirations, eliminating barriers and acting as a catalyst to release athlete potential. I commend the GSF for its commitment to the future and helping even more people reach greater heights in the world of sport."
GB and Northern Ireland Pentathlon Olympic Gold Medallist Lady Mary Peters DBE also joined the event.  GLL works closely with many sports bodies – including the Mary Peters Trust, SportsAid and Switch The Play Foundation – to widen and deepen athlete support through its GLL Sport Foundation.