GLL partners with British Gymnastics to boost participation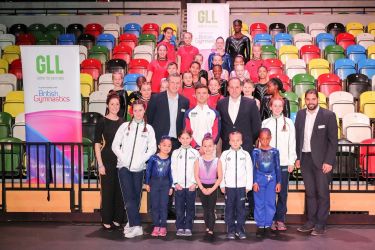 GLL and British Gymnastics are delighted to announce a new partnership, to help facilitate more opportunities for people to access to gymnastics across the UK.
Gymnastics is one of the most popular sports in the UK with participation on the rise and a growing demand to access the sport.
As part of British Gymnastics ongoing work to grow capacity, GLL will be joining the national governing body's growing list of leisure provider partners helping to increase provision of the sport.
Over the next three years GLL will be working with British Gymnastics in partnership, with the aim of bringing in 10,000 new gymnasts into the sport, increasing access through partnerships between leisure centres to club programmes.
This partnership will also be working on developing more qualified coaches and aims to train 100 new coaches to help increase the provision of gymnastics delivery.
Andrew Clark, National Sports & Aquatics Manager for GLL said, "Gymnastics is a fantastic sport which provides children with great fundamental skills including balance, co-ordination, concentration and confidence that are transferable to lots of other activities. We already operate the largest Gymnastics programme in the country; our Partnership with British Gymnastics will take this to a new level by utilising their programme and support.
"Access into the sport has been a challenge due to capacity, our programme at your local leisure centre plays an important part in the development of children who progress on to gymnastics clubs and other sports.
"The unique talent identification model we are developing with British Gymnastics will ensure talent is highlighted and signposted on to the appropriate talent pathway, which could be ground-breaking for the sport."
David Marshall, Participation Director of British Gymnastics said; "We are thrilled to be working with GLL as an Official Delivery Partner. With over 25 years' experience creating community spaces, GLL have made a significant impact on the leisure industry, creating a fantastic network of facilities across the UK. This is a significant step in our work to increase the number of ways participants have access to our sport and this partnership will create thousands of new opportunities."