GLL partners with Capri Sun in new campaign to promote children's swimming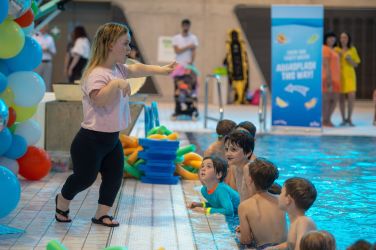 Leisure operator and charitable social enterprise GLL, is partnering with consumer drinks brand Capri Sun in a unique campaign that will give parents across the UK the chance to win discounted swimming lessons for their children, and a swimming lesson with GB Paralympic gold medal swimmer Ellie Simmonds OBE, as part of a new on-pack promotion.
Available through major retailers until May 2020, the promotion applies to 400,000 packs of Capri Sun's 'Fruity Water' product.  2,000 prize winners will receive 50% off week-long, intensive, swimming lessons at 140 GLL-operated pools - delivered through its Better Swim School programme.  An overall winner will receive one-on-one swimming coaching with Ellie Simmons at the prestigious London Aquatics Centre. 
It is thought to be the first time a public sector leisure operator has established an exclusive relationship with a consumer brand.
The initiative was devised in order to highlight the importance of learning to swim and in response to research undertaken by Capri Sun in 2019* showing that almost half of children under the age of ten are afraid of the water.  This supports findings in Swim England's Value of Swimming Report 2019** suggesting one in four children leave primary school unable to swim the statutory 25m.  Figures from the Royal Lifesaving Society (RLSS) show that 585 Britons lost their lives through drowning last year.
Andrew Clark, National Sports & Aquatics Manager at GLL said: "We are very excited about this new partnership, which we believe is the first of its kind.  As a social enterprise, teaching children to swim is at the very heart of our corporate values and while we are teaching more children than ever, we know that too many still slip through the net and fail to gain this crucial life skill. 
"We are confident that by working with Capri Sun we will be able to reach a wider audience and make our swimming lessons more accessible, to a greater number of families."
Capri-Sun Fruity Water is made of 97% water, 3% real fruit juice.  The brand contains no added sugar or preservatives and no artificial colours or sweeteners.
GLL, via its consumer-facing Better brand, is the biggest provider of swimming lessons in the UK, employing over 1.400 swimming teachers and running more than 18,100 swimming lessons each week.
For more information visit: www.caprisunswimminglessons.co.uk