GLL's Better Customers to Support Big Swim Day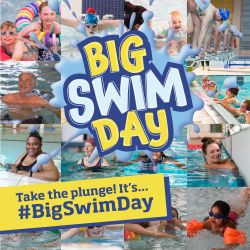 The plight of pools is being highlighted as part of Big Swim Day today (Friday), with GLL's Better customers across the country invited to visit their local swimming facility and show their support by enjoying a swim and urging action in order to help keep pools open.
According to research by leisure industry body CLUK, half of the UK's community swimming pools face closure within six months - placing up to 17,000 jobs at risk - unless the Government steps in with urgent financial support to tackle crippling energy bills.
Its members - all charities - have shared the scale of collective closure threats as they brace themselves for the ending of Government energy support, on top of the unprecedented pressures caused by skyrocketing power prices. 
Swimming legend Duncan Goodhew, a gold medalist at the 1980 Moscow Olympics, is supporting the call for Government action.
He said: "This is make-or-break time for an alarming number of swimming pools across the UK. It's madness that the Government doesn't seem able to see the danger they are in.
"Without pools and leisure centres being classed as vulnerable, the astronomical energy price hikes their operators face will sadly be the final fatal blow for many.
"It's obvious that we cannot afford for communities to be robbed of swimming pools. People have never needed help with their health and wellbeing more. Yet, without political and financial support, they are going to have fewer places than ever to do that.
"I've seen thousands of children learn to swim in their local pools. If there aren't the places to teach these life-improving - lifesaving - skills they will be lost for a generation."
CLUK had written to Chancellor Jeremy Hunt calling for financial support.
As part of Big Swim Day, it is encouraging people to show their support for pools on social media using the hashtag #saveourpools, highlighting the invaluable role they play in communities.
Peter Bundey, CEO of charitable social enterprise GLL - the company behind the 'Better' brand said: 
"As the UK's largest operator of swimming pools, we are fully supportive of this sector-wide campaign.
"Without central Government help, the future of public swimming pools and small community-led pools is under real threat. 
"For generations we've taken for granted that we all have easy access to a local pool, where we can learn to swim, exercise and socialise; unfortunately, that may not be the case for much longer. 
"By excluding leisure facilities and in particular swimming pools from the list of sectors eligible for extra financial support, central Government is effectively consigning many public and community pools across the UK to closure. 
"With fewer opportunities to swim, health inequalities will grow and the most disadvantaged in society will be disproportionately affected. In the longer-term pressure on health services will increase as a result."
The UK Government's Energy Bill Relief Scheme provides relief for non-domestic users across Great Britain and Northern Ireland by reducing gas and electricity unit prices.
The sector was supported over the first six months of the scheme, but was not on the list announced for inclusion beyond April 1.
For more information, go to: https://communityleisureuk.org/big-swim-day/