GLL scoops a top prize at SEUK Awards 2019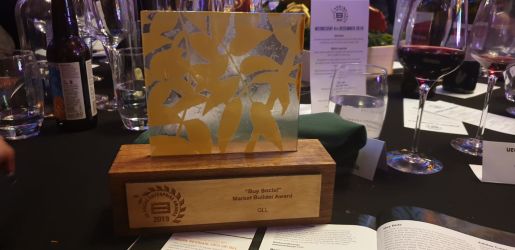 The UK's premier leisure and cultural charitable social enterprise has scooped top honours for its support for other social enterprises in its supply chain.
The win in the 'Buy Social' - Market Builder category at the SEUK Awards 2019 at London's Guildhall rounds off another successful year for the Greenwich-based, not-for-profit, which is widely seen as an exemplar staff-owned business.
GLL operates nearly 400 facilities across the UK under its 'Better' brand  – from libraries to gyms to swimming pools to children's centres.
It spends over £15m annually with over 40 social enterprises - including well-known brands such as Divine Chocolate, Belu Water and Cafe Direct, alongside lesser known suppliers of stationery, print services and more.
GLL CEO Mark Sesnan said:
"Getting social enterprises into our supply chain is part of our GLL's Corporate Plan - it is not just the right thing to do, it makes business sense as well.
"This award clearly showcases the difference that true social enterprises bring to local communities. GLL's annual spend with other social enterprises supports jobs and lives in the UK and abroad and has contributed to our social impact reaching record levels.
"Together, social enterprises are an unstoppable force for good."
GLL believes that doing business with other social enterprises strengthens the sector and establishes strong relationships with brands that share its social values and ethos – giving extra resilience in uncertain times.
GLL's social enterprise supply chain includes:
On-site and event catering supplied by social enterprise BHLive - creating local employment and opportunity in some of the London's poorest postcodes
National stationery supplied by social enterprise Wildhearts
Phone Co-Op supplies GLL's phone contract
2p from each hot beverage sold in Better's café concessions goes to the GLL Sport Foundation – the largest independent athlete support programme in the UK https://www.gllsportfoundation.org/
GLL supports SEUK's Buy Social campaign through social media
GLL includes SEUK's assets in staff inductions, creating ambassadors for social enterprise
GLL also sponsored 'The One to Watch Award', given to fledgling social enterprises on their way up – and won by period poverty campaigners 'Hey Girls!'