GLL signs 5 year partnership with RLSS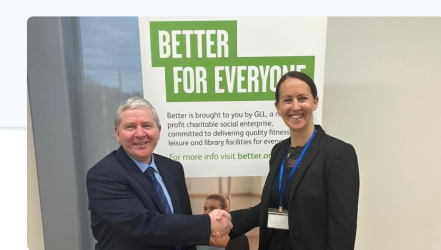 GLL has signed a partnership agreement with the Royal Life Saving Society UK (RLSS UK) that sees the national operator deliver RLSS UK's industry-leading pool lifeguarding courses for a further five years until the end of 2028.
GLL is the UK's largest public swimming pool operator and works with local authorities to run 140 pools and employs over 5,000 lifeguards, including at London Aquatics Centre on Queen Elizabeth Olympic Park and Britannia Leisure Centre in Hackney - all under GLL's 'Better' brand.
GLL lifeguards are all trained in the RLSS UK National Pool Lifeguard Qualification (NPLQ), and their swimming teachers enjoy the benefits of the RLSS UK National Rescue Award for Swimming Teachers and Coaches (NRASTC). 
RLSS UK and GLL share a focus on improving overall participation in swimming and creating safe environments using qualifications that demonstrate best practices for the operation of modern swimming pools. 
Chris Hebblewhite, Director of National Standards and Compliance at GLL, said:
"GLL are delighted to be working with RLSS UK to improve swimming pool safety to get more people more active, more often. Safe and well-maintained pools encourage repeat visits, and as a charitable social enterprise, we exist to support the health of local communities in this way. 
"Nationally, there is a shortage of lifeguards, and the industry desperately needs to attract people, especially those from disadvantaged backgrounds, something that both we and RLSS UK are passionate about." 
Jo Talbot, Commercial Director of RLSS UK, added:
"We are thrilled that GLL has shown a commitment to delivering RLSS UK lifeguarding qualifications for a further five years - a reflection of the standards we have achieved working with them to date and our plans to support them in the future. GLL is a forward-thinking organisation, and we value working with them to deliver more pool lifeguarding courses and encourage more people from all backgrounds to join the lifeguard community."