GLL Sport Foundation Awards - applications close 20 February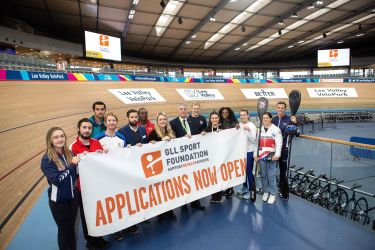 The UK's largest independent athlete support programme closes its annual Award programme for new applications at the end of this week (20 February).
Talented athletes from across 65 areas across the UK are invited to apply for a range of support awards which include financial support, access to sport facilities, physiotherapy, lifestyle mentoring and mental health support.
The innovative scheme is provided by charitable social enterprise GLL and expects to award £1.2m worth of help in 2023 for successful applicants. Already a popular and essential support programme for athletes, the Foundation is expecting heightened athlete interest as the cost of living crisis hits and training costs, equipment purchases, strength & conditioning costs and travel costs continue to rise.  
Peter Bundey, GLL Sport Foundation Chair, said: "With the majority of award holders aged under 21 and 87% receiving no other funding support, our Sports Awards offer a lifeline to many talented young athletes as well as helping local communities discover the opportunities and enrichment that come through sport". 
Applications are open until 20th February 2023 via the website portal – www.gllsportfoundation.org