GLL Supports National Fitness Day, 20 September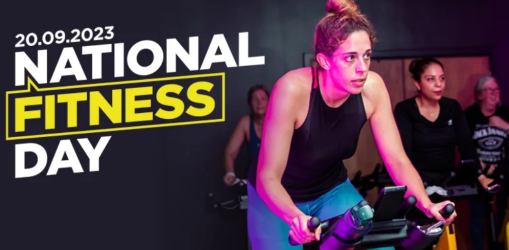 Better leisure facilities – provided by the UK's largest charitable social enterprise leisure operator GLL  – will be supporting National Fitness Day 2023 with a range of free classes and activities to activate local communities.
This year's theme - Your Health is for Life - aims to encourage people of all backgrounds to recognise and celebrate the life-long physical and mental benefits of being active.
The annual campaign, co-ordinated by ukactive, and held on 20 September, sees millions of people across communities inspired to be more active, with thousands of free activities hosted by gyms, swimming pools, leisure centres, sports clubs, workplaces, schools and online providers.
To mark the event, 'Better' leisure centres right across the UK will be offering customers more than 7,000 free spaces in a variety of activities such as swimming, cardio, mind and body, dance, strength and conditioning, gym and tennis.
This year, National Fitness Day coincides with the launch of 'King's Cross Fitness', Better's newest flagship facility in central London – which joins Monks Hill Sports Centre's new gym in Croydon and the re-opened Abraham Moss Leisure Centre in Manchester as part of Better's recently opened leisure facilities.
Customers there are being invited to take part in free 'Elevate' sessions, a new offering which combines HIIT and cycling. They will also have the opportunity to speak to an on-hand physiotherapist and sports nutritionist.
GLL CEO Peter Bundey said: "It has never been more important for the public to embrace activity and fitness as an aid to mental and physical health.
"So we are delighted to join this year's National Fitness Day Campaign - Health is For Life - in our sports centres, gyms, studios and pools across England, Wales and Northern Ireland with a host of free classes and activities for everyone.
"No matter your state of fitness, taking small steps to be more active more often will have huge benefits throughout your life – and that journey could start on National Fitness Day when you try something new."
Health & Fitness is also being promoted in Better's libraries with active gaming zones in Mottingham Library (Obie by Exergame) as well as physical activity-themed book displays and promotions across Bromley, Greenwich, Wandsworth, Dudley and Lincolnshire.
In 2022, National Fitness Day saw the participation of an estimated 11 million people, including over four million children and young people.
Participants are encouraged to share their fitness inspiration on social media using the hashtag #FitnessDay and tagging @FitnessDayUK
For more information, see National Fitness Day website. 
For details of pre-bookable National Fitness Day offers at your local Better Leisure facility, visit: https://www.better.org.uk/national-fitness-day