GLL wins National Award for its Social Enterprise Story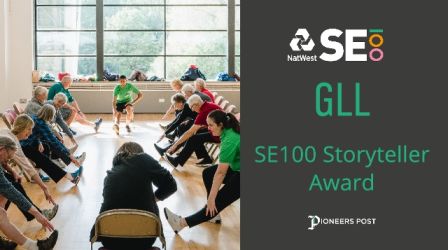 GLL customers vote with their conscience when choosing a socially-purposed service provider over rival high street chains.
That's the finding of a major award this week which searched for the country's Top 10 ethical businesses.
Leisure and cultural social enterprise GLL has been trading for the health and wellbeing of local communities since 1993. It provides public leisure, library and childrens' services under the 'Better' brand.
The NatWest SE100 Top Ten Business Awards judged Better's 'I Choose' Marketing Campaign in 2019 as the best in the 'Storyteller' category.
The not-for-profit used its USP as a social business to tell its story through staff and customers' own words and highlighting its values of community, people over profits and investment in promising young athletes.
The award also highlights the difference the operator makes in local communities up and down the country from Cardiff to Cumbria and from Bromley to Belfast.
The 'I Choose' campaign featured extensively on customer messaging in January 2019 using photos of real people and stories from real customers which resonated powerfully with community audiences.
GLL CEO Mark Sesnan said:
"As a social enterprise, we've always put the health and wellbeing of customers and communities ahead of profit - and this award confirms that they really value that.
"Every penny profit we make is re-invested into making local communities richer in health, wellbeing and opportunity.
"Receiving this award at the current time is even more significant as we make sense of the pandemic and adapt to the new normal.
"We are completely focused on meeting our customers needs – whether that's new online classes or by re-opening our physical services.
"We will be listening carefully to what they want and giving back in every way we can to thank them for their loyalty."
Read more here: https://www.pioneerspost.com/news-views/20200520/the-final-ten-2020-s-natwest-se100-social-business-award-winners