Hackney healthy lifestyle programme wins national award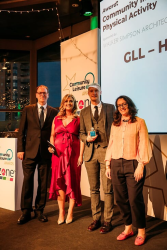 Healthier Together Hackney (HTH) an innovative weight loss and management programme commissioned by the London Borough of Hackney and delivered by GLL, has won the 'Community Impact Through Physical Activity Award' at the 2019 Community Leisure Awards, at The Lowry Hotel, Manchester.
The healthy lifestyle initiative targets those who are obese or overweight and suffer from weight related conditions as well as those who are inactive and have health related conditions or risk factors.
Instructors offer individually tailored activity plans, healthy eating workshops and supervised activity sessions. During 2018 the programme received over 3,500
within the borough, from 539 healthcare professionals from 71 local GP surgeries. Over 2,100 started the programme, 62% of those completed the programme and 79% demonstrated increased activity as a result of the programme. 83% of completers also recorded weight loss of at least 3%.
Commenting on the award Peter Dutton, GLL's Healthier Together Hackney Manager said: "It's a huge honour to receive this award from our industry peers. We are really proud of the success of the programme and the way it continues to educate and inspire Hackney residents to improve their health and wellbeing through diet and physical activity."
A Hackney Council spokesperson added: "We are very proud of the Healthier Together Hackney service. Their hard work and enthusiastic commitment have helped thousands of people to achieve significant positive lifestyle changes. In addition to supporting individual programme participants achieve their healthier lifestyle goals, they have also contributed to innovative projects, such as replacing less healthy products in their vending machines with healthier ones across all GLL sites in Hackney, contributing to wider community health and wellbeing."
For more information on the Healthier Together Hackney scheme visit: https://www.better.org.uk/leisure-centre/london/hackney/britannia-leisure-centre/healthwise