Jobs Boost for Tower Hamlets as Lifeguard and Swim Teacher Recruitment opens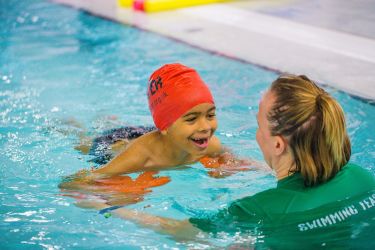 GLL - The UK's largest swimming pool operator - is teaming up with Tower Hamlets Council to encourage residents to train as lifeguards and swimming teachers as part of the re-opening of Tiller Leisure Centre in January 2022.
What's more, as part of its charitable social enterprise remit GLL and has stepped in to fully fund the cost of National Pool Lifeguard Qualifications (NPLQ) and swim teaching courses for Tower Hamlets residents. Typically courses cost in excess of £375 per person.  With over 20 funded spaces up for grabs until the end of December, strong interest in the campaign is expected.
Currently there is a national shortage of lifeguards and swimming teachers, with 20 per cent of positions unfilled.  GLL hopes that Tower Hamlets' public swimming facilities can buck this trend and encourage a new wave of local people to apply, providing a welcome boost to employment in the borough.
Commenting on the campaign, Colette Lyons, Head of People at GLL said: "We're particularly keen to raise awareness amongst people who may not have previously considered becoming swimming teachers and lifeguards.  It is the ideal job for those looking for flexible working, for example parents who want to fit working hours around the school day, or the active retired or students."
To discuss job opportunities and funded courses please email: Tiller@gll.org