Libraries strength recognised as GLL named Premium Employer Partner by CILIP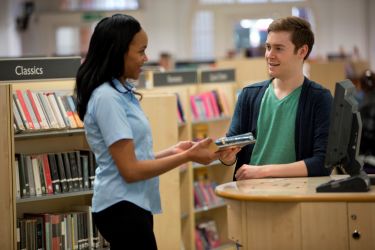 The UK's premier Social Enterprise Public Libraries provider GLL has been named as  first Employer Partner by CILIP (Chartered Institute of Library and Information Professionals).
The scheme aims to bring together and recognise employers that are industry leaders in data, information, knowledge and libraries and are committed to developing a workforce with the skills and capabilities to steer them to success.
CILIP CEO Nick Poole said: "I am absolutely delighted to welcome GLL as our first Premium Employer Partner. It is more important than ever that we invest in our workforce and their development to ensure that their skills remain up to date and relevant. We welcome GLL's total commitment to this and the value they place on skills development and professionalism. We very much look forward to working with them as one of our Premium Partners."
Diana Edmonds, MBE, GLL's National Director for Libraries, said: "GLL is a charitable social enterprise with a strong commitment to investing in staff training and development opportunities, including supporting those who want to gain professional qualifications. CILIP is a natural partner in this approach to workforce development – and we are delighted to become their first Premium Employer Partner.

"GLL is also committed to the development of the apprenticeship programme in libraries; we are the largest provider of Apprenticeships in the leisure charitable sector and again look forward to working with CILIP in the development and expansion of apprenticeship opportunities in libraries."
Employer Partners is a new scheme being launched by CILIP. It places a greater focus on working in partnership with employers; ensuring that their voice is clearly heard and amplified to wider stakeholders. Employers are also offered a package to support the development of their workforce including strategic networking opportunities, free places at our employer forum, invitations to participate in CILIP reviews and projects, individual membership packages, access to workshops, discounts on training and recruitment, and more.