Manchester City Council award GLL contract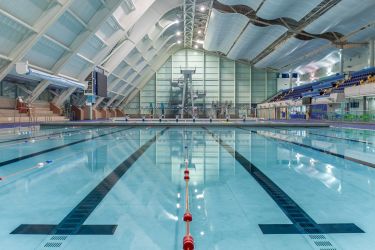 GLL, the UK's largest leisure charitable social enterprise, has been awarded a new leisure management contract with Manchester City Council to operate its world-class National and Regional Sports Centres of Excellence and community leisure facilities for the next 9.4 years.
The impressive suite of venues range from facilities such as the Manchester Aquatics Centre and HSBC UK National Cycling Centre – home of elite Olympic and Paralympic Athletes in training for Tokyo 2020 - to significant community leisure facilities, such as the new Moss Side Leisure Centre currently undergoing an £8m refurbishment and opening in November this year.
Following a successful competitive tender process, GLL will work in partnership with Manchester City Council to manage the facilities until 2028.
The renewed contract includes the day-to-day operational management of:
• Abraham Moss Leisure Centre
• Active Lifestyles Centre
• Arcadia Library & Leisure Centre
• Ardwick Sports Hall
• Belle Vue Sports Village
• Debdale Outdoor Centre
• East Manchester Leisure Centre
• Hough End Leisure Centre
• Manchester Aquatics Centre
• Manchester Regional Arena
• Manchester Regional Gymnastics Centre
• Manchester Tennis and Football Centre
• Moss Side Leisure Centre
• HSBC UK National Cycling Centre
• Clayton Vale Mountain Bike Trail & Phillips Park Skills Zone
• Platt Fields Park BMX Track
• National Squash Centre
• North City Family & Fitness Centre
• Ten Acres Lane Sports Complex
GLL has managed the community facilities in Manchester since 2014. As part of its social enterprise ethos, GLL reinvests financial surpluses back into the communities it serves, through grassroots sports development and improving access to activities to improve the lives of local people, generating social value of £400m per year nationally.
Joseph Rham, Regional Director at GLL said: "We are delighted to continue our successful partnership with Manchester City Council and National Governing Bodies of Sport to not only provide excellent facilities at both community sport and elite competition level, but to get communities more active.
"We are very proud that the Council have chosen to build on the success of the last four years through an ongoing, long-term partnership with GLL that will improve health, wellbeing and opportunity across Manchester throughout the next nine years."
Councilor Luthfur Rahman, Executive Member for Schools, Culture and Leisure at Manchester City Council said: "Our mission in Manchester is to provide sport and physical activity opportunities for all, from our residents young and old who are meeting their well-being goals, right through to elite performers who test themselves at Olympic and Paralympic level.
"We look forward to continuing to work with GLL to ensure that all Mancunians can access exceptional local leisure facilities and our world-class centres of excellence, ensuring that our city gets more active and continues to grow its global reputation as a sporting capital."
"The Manchester sport and leisure offer is not only the largest in the UK but also one of the best used; one in seven (14%) of the city's population are currently MCRactive members (76,174 people).
An increasing number of Manchester customers (6,400) are choosing lessons and courses as a way of keeping them motivated and enjoying their leisure activities – up 22% over two years.
As a social enterprise, GLL prioritises raising social value in the partnerships where it operates and measures this in terms of improvements to health and wellbeing, education, opportunity and reduction in crime.
£20.1M of social value has been generated in Manchester in the last 12 months – putting it in the top quartile for the UK.