Mark Sesnan completes his first London Marathon for Cancer Research UK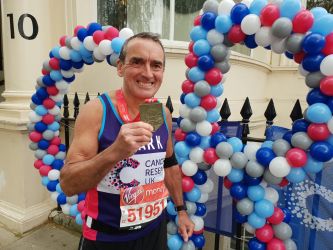 Mark Sesnan, the 63 year old Managing Director of social enterprise leisure operator Greenwich Leisure Ltd (GLL), completed the London Marathon in a personal best time of 3 hours and 48 minutes.
It was his first attempt at the world-famous race and possibly his last.
Speaking of his achievement, Mark said:
"Marathons are team efforts and I want to thank all those who helped get me over the line – from my running partner Dave White through to those who generously contributed to my fundraising total.
"Raising over £5k means Cancer Research UK can continue their valuable work to beat cancer sooner."
Mark has so far raised £4,898. (£5,855 with Gift Aid).                                                                                                                                                          To contribute to Mark Sesnan's CRUK fundraiser, please visit:
https://fundraise.cancerresearchuk.org/page/marks-london-marathon-5
Contributions can be received until the end of May.