Mayor of London recognises GLL for creating healthy workplaces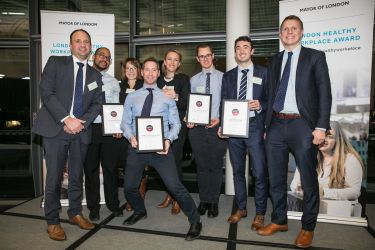 GLL has received the Mayor of London's Healthy Workplace Foundation Award for 11 of the leisure centres it operates across four London boroughs.
GLL-managed facilities in Camden, Hammersmith and Fulham, Kensington and Chelsea and the organisation's support services base in Greenwich received the accreditation, which acts as a template for good practice and recognises employers that invest in their staff's health and well-being.
GLL already holds Healthy Workplace Award accreditation for the 14 leisure centres in manages in Barnet and the Royal Borough of Greenwich, meaning it now has more accredited sites than any other organisation in the Capital and more than any other leisure operator.
The award has been created to help organisations address some of their biggest challenges such as recruitment and staff retention, sickness absence and employee productivity. As part of the accreditation process participants are encouraged to develop well-being programmes across a range of areas including support for mental health, smoking, alcohol and substance misuse, improving physical activity and promoting healthy eating.
Lorraine Patrinos, GLL Associate Director & Head of Learning and Development said: "The award provides us with recognition and a framework for the work that we're doing to create a workplace in which our people feel valued and supported. The health and wellbeing of our workforce is a vital ingredient to ensuring the health of our business and we're committed to provide a workplace that has great standards in areas that impact the health and wellbeing of our team."
Dr Tom Coffey OBE, Mayor of London Health Advisor, said: "Creating and fostering healthy workplaces has benefits for both employers and staff, improving physical and mental wellbeing, and leading to increased productivity and creativity. We want better health for all Londoners, and the London Healthy Workplace Awards both celebrates best practice and offers guidance for organisations to improve work standards. I'd like to congratulate all the winners for their great work."