New Year brings new future for leisure services in Basingstoke and Newbury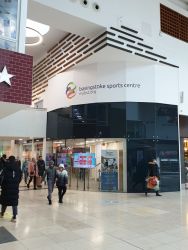 Customers of Basingstoke Sports Centre and bstFitness Newbury can look forward to a brighter 2022 following the announcement that Basingstoke Sports Trust (BST) has merged with Greenwich Leisure Limited (GLL).
BST staff were informed of the merger before Christmas ahead of GLL beginning operating the centres from the 1st January 2022.  Services will be offered under the BST brand initially, meaning service as normal for customers and staff.
GLL is the UK's largest leisure charitable social enterprise and delivers services that prioritise health and wellbeing over profits.
With no shareholders to pay, surpluses can be reinvested into staff training and career development, facilities, grass roots sport programmes and getting more people more active.
James Starbuck, Former CEO of BST said:
"Given the financial challenges of the past two years, this merger is great news and ensures an extremely positive future for these centres in Basingstoke and Newbury.  GLL's experience and innovation will allow the centres to thrive as we recover from the pandemic. 
"In addition, GLL's employee-led model opens up significant opportunity for all employees in terms of training and career progression."
Mark Sesnan, OBE, CEO of GLL said:
"This type of collaborative working between leisure trusts showcases the strengths that the charitable social enterprise sector can bring to public services. 
"We are extremely excited to welcome the BST staff into the GLL family as we begin operating the two fantastic centres in Basingstoke and Newbury. 
"Our goal is to build upon the great work achieved to date and make a real difference to the health and wellbeing of the community for many years to come."