Royal Borough of Greenwich launches UK's first ethically sourced 'Eco' library cards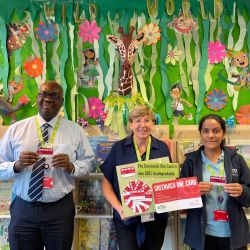 The borough's 13 public libraries have begun issuing the new eco-cards this week and with over 121,000 library cards currently in circulation within Greenwich alone, the change will have a significant environmental impact – reducing the amount of plastic going to landfill.
GLL, the charitable social enterprise that operates Royal Greenwich's libraries on behalf of the council, has partnered with manufacturing specialist Spectrum Plastics and Products to develop the new card – which is full colour, includes a barcode and is made from FSC ethically sourced cardboard.
The scheme is the latest in a series of initiatives undertaken by libraries within the Royal Borough to minimise their environmental impact.  These include the recent refurbishment of Eltham Library, which included installing energy efficient lighting, using water-based paints – emitting minimal VOCs and upcycling furniture where possible.  New furniture was sustainably sourced and new carpeting partially made from recycled materials.
Paul Drumm, GLL's partnership manager for libraries within the Royal Borough of Greenwich commented: "While changing how we source and manufacture library cards might seem like a small step, the cumulative impact is significant.  With over 121,000 cards issued in the borough, equating in size to eight football pitches, this simple move will have a real impact."
"Traditional lending libraries are the ultimate example of positive recycling, as books are reused multiple times.  We are now exploring how, by embracing modern technologies, we can do much more to help the environment."
Royal Borough of Greenwich Cabinet Member for Culture and Communities, Cllr Adel Khaireh said: "Our libraries are an essential hub for our communities; they serve to inspire and educate as places where our residents meet and enrich their lives. We know how important protecting the environment is to them and care just as much about making planet-positive choices. These smart new 'eco' library cards are another example of how we strive to make better environmental choices for the borough and reach our carbon neutral commitments."
Kath Doran, Managing Director of Spectrum added: "We currently produce approximately 90% of the UK's library cards.  With changing times we are keen to move with the demands and needs of our customers and the environment to help those like GLL, who wish to have a "natural" biodegradable card, to achieve this.  According to the EU a naturally biodegradable card should biodegrade in six months.  Some of the materials that do this include plant products, leaves, food waste, wood and paper and seamlessly re-enter the earth. This is in direct contrast to the degradable plastic library cards that have started to be offered as an environmental choice.  These claim that they breakdown in between nine months to five years, but what is not advised is they then continuously breakdown into microscopic pieces that still effect the environment.  We are continuously working with our suppliers to find improved materials that are "naturally" biodegradable but will last longer while in use and will shortly be presenting GLL with their "Mark II" environmentally sustainable card."