Tiller Leisure Centre Reopens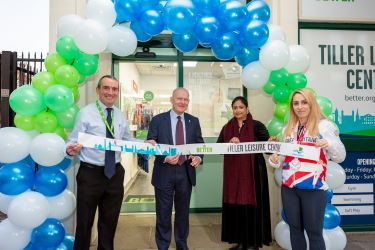 Some welcome good news for residents in Tower Hamlets came this week following the much awaited reopening of Tiller Leisure Centre – following a 22 month closure.
The popular public facility – run in partnership between the Tower Hamlets Council and charitable leisure social enterprise GLL under the Better brand - has been closed since March 2020 - firstly due to Covid and then for a £600,000 refurbishment.
In the 25m pool hall, the five-lane pool tank, lighting and air handling have been replaced - to give a fresh, lighter and brighter swim customer experience.
Elsewhere in the centre, new low energy lighting, repainting, new gym equipment and flooring all add to extending the life of the venue and improving its sustainability.
On 17 January, Tower Hamlets' Mayor Cllr John Biggs declared the facility officially open with a ribbon cutting. This followed a soft launch reopening on 3 January.
Also present for a tour of the improvements - and to hear about plans to improve participation and health following the pandemic - were Cllr Sabina Akhtar - Cabinet Member for Culture, Arts and Sports , representatives from the Council's Leisure Department, Ward Councillors and GLL CEO Mark Sesnan, OBE and GLL CEO Designate Peter Bundey.
Team GB Tokyo 2020 Paralympic Silver Medallist and local hero Ali Smith – who trains at Mile End Stadium and Leisure Centre - was also in attendance to provide some sporting inspiration. She is an award holder of the GLL Sport Foundation – the UK's largest independent support programme for aspiring athletes which is open to applications from Tower Hamlets residents until 20 February.
Better's Karen Stevenson, General Manager of Tiller Leisure Centre said:
"Everyone at Better is excited to welcome our customers back again to Tiller Leisure Centre.
"We see ourselves very much at the heart of local community health and wellbeing and know the importance our customers place on their local leisure facilities.
"These welcome investments will not only extend the life of the building and create a fresh and bright environment, but help us welcome even more people to get more active, more often."
John Biggs, Mayor of Tower Hamlets, said:  
"It's great to have Tiller open again. I hope old and new members will come to take advantage of the new and improved facilities on offer, including the 25-metre five-lane swimming pool. 
"This is a key step towards building a better borough for our residents and our ongoing recovery from COVID." 
Attending to promote the GLL Sport Foundation - the UK's largest independent support programme for aspiring athletes - Tokyo 2020 Paralympic Silver Medalist Ali Smith who will compete at the Birmingham Commonwealth Paralympic Games this July, said:
"I wouldn't have been able to do what I've done without the support of the GLL Sport Foundation and the use of Tower Hamlets' facilities.
"The programme has been brilliant and has helped so many athletes on their sporting journey."
Tiller's re-opening takes the number of available pools in Tower Hamlets to three – with York Hall in Bethnal Green due to reopen in Spring 2022 and a consultation pending on the future of St George's in Shadwell.
Tiller provides up to 20 job opportunities for local people with free training offered for lifeguarding and swim teacher roles. Swim teachers and lifeguards are welcomed from the local community and can be of any age above 18.  Interested applicants can find out more at: