Tower Hamlets Mayor Lutfur Rahman Reopens York Hall Swimming Pools following £1m refit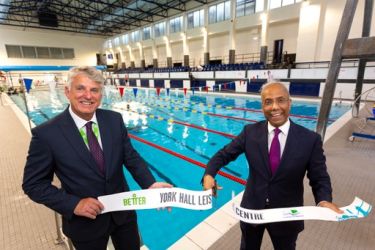 Following a £1.03m investment by Tower Hamlets Council, York Hall Swimming Pools in Bethnal Green were officially opened by Mayor Lutfur Rahman on 20 July ending a 2-year closure.
Councillors, representatives of leisure partner GLL and local hero athletes joined community club swimmers to celebrate the reopening of the pool hall - part of the Grade II listed historic York Hall Leisure Centre built in 1929.
The entire pool tank of the 33 metre pool has been replaced and retiled, keeping in style with the original 1920s design.
New energy efficient lighting has been installed along with an upgraded air handling system to reduce carbon usage and create a lighter, cleaner and brighter experience for customers.
An accessible hoist has been added to aid swimmers with mobility issues.
Also known as 'The Home of British Boxing', York Hall's multipurpose venue has hosted matches since the 1950s.  It was renovated between 2005-2007 and a day spa created in the basement where the old Turkish Baths were situated and a state-of-the-art gym added.
The pool hall upgrade is part of a £2.3m investment in public leisure in Tower Hamlets to support the health and wellbeing of all residents – tackling inequality and providing opportunity. Other facilities receiving upgrades include Mile End Leisure Centre, John Orwell Sports Centre and Whitechapel Leisure Centre.   
Mayor Lutfur Rahman cut the ribbon poolside, in the company of GLL's CEO Designate Peter Bundey, Cllr Iqbal Hossain, Cabinet Member for Culture and Recreation, and local athletes Ruqsana Begum and Hayley McLean.
Mayor Rahman said:
"I am delighted that the doors to York Hall swimming pool have been reopened for the local community to enjoy.
"We are committed to supporting the health and wellbeing of our residents and a network of modern, affordable and accessible leisure centres is a key part of this.
"The range of concessionary memberships across our leisure centres ensures everyone has access to their local facilities – regardless of their personal circumstances."
Cllr Hossain added:
"Swimming benefits people of all ages and the new facility is set to be a hub of aquatic activity with clubs, schools, catch up programmes, open days and swim lessons all set to return in the coming weeks and months."
Speaking about the vital role of swimming as both a popular exercise and vital life skill, GLL's Peter Bundey said:
"As a charitable social enterprise, GLL exists to support community health and wellbeing.
"So we hope these improvements will create a more enticing environment for customers, allowing us to welcome back our existing swimmers - and meet many more new ones - in the years to come."
"We look forward to serving them and growing back the York Hall swimming community."
"We were particularly proud to use the reopening event to also present our 2022 GSF Awards to the borough's most talented athletes. 
"They represent a diverse age range of Tower Hamlets' most promising sportsmen and sportswomen from across a wide spectrum of sports from swimming to snooker and from athletics to karate."
As part of the celebrations, 17 local talented young athletes attended the Presentation Ceremony for the 2022 GLL Sport Foundation Awards (GSF) – the largest independent athlete support programme in the UK which is supporting 43 borough athletes this year. 
Mayor Lutfur Rahman and GLL's Peter Bundey presented their certificates.
Running for 14 years, the GSF has supported the sporting dreams of nearly 20,000 grassroots and elite athletes and distributed cash awards and training memberships worth over £13m nationally.
Attendees were also treated to a Karate demonstration from Bethnal Green based club Kaizen Ryu Karate Do http://www.kaizenryu.com/
Participants enjoyed a tour of the facilities and refreshments served by Bengali women's business 'Tati Catering by the Oitij-Jo Collective' and social enterprise 'Tower Project' https://www.towerproject.org.uk/pages/17-social-enterprises 
Tower Hamlets based sports people attending included Kickboxer-turned-Boxer Ruqsana Begum, Masters Swimmers Ralph Pinel and Peter Dixon and Hurdler Hayley McLean.
The youngest recipient is 13 year old Karissa Ho – who took part in a Karate demonstration.