Transfer of York Stadium Management Company Ownership to GLL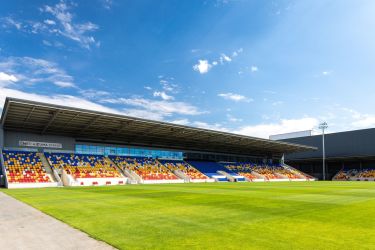 Greenwich Leisure Limited (GLL) are pleased to announce the acquisition of York Stadium Management Company (York SMC) from York City Football Club.  The two parties will continue their positive relationship at the LNER Community Stadium, with the football club focusing on football activities and York SMC focusing on delivering the best fan and customer experience possible.
Since its initial opening in early 2021, the LNER Community Stadium has hosted more than 200 fixtures and almost 400,000 tickets have been sold for those events. In addition to fixtures for York RLFC and York City Football Club, the stadium has also hosted matches for the Rugby League World Cup 2021, Rugby League Summer Bash, Leeds United, Sheffield United, Hull City as well as a wide range of community fixtures. Last month, plans were announced to host a number of fixtures for the Women's Rugby Union World Cup in 2025.
GLL Chief Executive, Peter Bundey, stated "GLL's ownership of York SMC, meets our core strategic philosophy in operating as a not-for-profit business.  We are also keen that the York SMC reflects the community focus and ethos of the stadium and we will be working with York SMC colleagues and City of York Council on the longer term shape and strategy for the company".
General Manager of York SMC, Martin Jesper, added "This is a really positive step for all the stadium users as it provides absolute clarity over the availability of funds to invest in the stadium's infrastructure and ongoing operations. With immediate effect we are able to progress with a phased roll out of a new ticketing platform and set aside contingency funds to support the licensed clubs to deliver their consensual plans to create an improved stadium user experience, for example with the introduction of a new scoreboard and LED advertising boards.
"All the stadium's stakeholders accept, recognise and understand that there have been a number of challenges from the outset, such as the capacity constraints and limitations of the incumbent ticket system, whilst the stadium's use has evolved into far more than initial expectations. The opportunity now exists to build on recent internal restructure and to progress to provide the City of York with a stadium that showcases its true potential".